I want to be early down to Penn Station so I can have a little bit of time in ClubAcela and I also know that the Maple Leaf is a train that boards 15-20 minutes early. I leave the house at 6:05, just miss the A train and am getting off the subway at Penn Station 6:45.
I check into the club at 6:50 and am told track 5 for the Maple Leaf #63. I grab some coffee and another Sara Lee overly processed muffin before heading out towards track 5. A Northeast Regional to Boston is already boarding at the same gate but a line has already started to form for the Maple Leaf behind it.  The Northeast Regional soon leaves and a gate agents breaks us up by destination, everyone getting off before Syracuse in one line, everyone going farther in the other. The long-distance and international line is closer to the wall, were in the middle of the concourse. Were told to wait until these passengers have boarded and then they will board us to the rear of the train.
At 7:05 I give up on the line I'm in and go down via the staircase through the exit concourse. I even open the new doors that are designed to stay closed to "keep the air conditioning in" I walk down to the platform  and I'm directed to the rearmost Amfleet I car with a door keeping us from the more comfortable Amfleet II cars for passengers going farther. I'm the third person to board the short-distance car (guess the other two used the exit concourse?) and grab a seat on the left. The exit concourse trick worked again! I should have relaxed for another 10 minutes in the Club. A confused foreigner asks me about seat numbers. I tell him to sit anywhere. There is a bit of doubling up but not too much.  We leave 3 minutes late at 7:18 with the on and off lights in the tunnel.
As we leave I notice construction in the open area just west of the station plus an LIRR BiLevel diesel set. Some construction equipment including a Rail King car is along the beginning of the Empire Connection.
At 7:24 a southbound train passes us. I get up to throw something away and notice the door between the halves of the train hasn't been opened yet. There is no sign of the conductor except briefly walking the train once. We leave Manhattan island as I finally hear the beep of the conductor.
The Conductor is just behind me when he stops scanning to get the Yonkers stop at 7:42 for a few passengers. I like getting off here but not on my train trips because of the lack of seat choice since I'd be guaranteed an aisle getting on here. The door has clearly opened as I notice people moving back to the cafe car. The conductor comes writing my Ams seat check with a checkmark and 4 on it.
We get to Croton-Harmon at 8:02. The station departure signs correctly say Toronto ON as our destination. There are many more passengers boarding and quite a bit of doubling-up but no one asks me. We leave and I notice a track loading vehicle one the yard and shops.
It's a nice scenic ride up the Hudson by Storm King and we stop in Poughkeepsie at 8:45. A few people are getting off.
We stop in Rhinecliff at 9:00, the platform is crowded with lots of passengers waiting for Southbound Train 236. We pass it north of the station at 9:50.
We stop in Hudson at 9:27, 12 minutes late as I take a little nap. I wake up again and notice my worst fear for a photo stop with a brand new camera. It starts to pour rain.
We arrive in Albany at 9:48 in the rain. I don't bother to get up as we lose HEP for the Engine Change. The Maple Leaf has to Exchange its dual mode Genesis P32 for a P42 because there is a shortage of them. The Adirondack has to do this to but not the through Empire Service trains or the Ethan Allen Express. At 9:59 they are boarding new passengers quite a lot and I hear the conductor say "Be careful, it's very slippery" At 10:06 we regain HEP and leave at 10:08. I'm now dreading my photo stop and am at least hoping the station house will be open. We get an announcement that the cafe car is open and that those purchasing food have priority for the tables, then those with laptops. He also says to always use earphones and to step in the vestibules for phone calls.
We stop in Schenectady at 10:30 and a few passengers get off, others get on including a blind woman and her seeing eye dog. Clearly not a therapy animal. A women move sour of the front ADA seats so they can have space. The rain seems to have let up for a moment.
10:50 – The conductor says exit either direction with both doors of my car going to open for AMS.
I arrive in Amsterdam at 10:52. I get off into the drizzle and find the station building completely fenced off with "Under Renovation" signs. There are two shelters and two port-a-johns. The building has been closed since Hurricane Irene flooded everything. There is a minor amount of work being done with a couple workmen inside.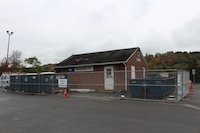 I'm hungry and the current station is 2 miles east of downtown, built in 1973 when a highway ramp for a bridge destroyed the original station in downtown. The first goal is some lunch. I start walking into downtown past abandoned and closed industry. The only things open seem to be auto shops. I walk the two miles into downtown and by a pizza place that looks like the best option at least according to Google. I end up deciding to explore some more, turn a corner and find a real local breakfast place. My two eggs and potatoes are adequate and a great use of just $5.
I leave lunch and explore downtown a little more. My goal is getting the 12:36 Westbound Empire Service Train #284. I don't quite walk fast enough to the grade crossing I want to photograph it at (getting partially distracted by an unusual railroad station sign), and miss getting a decent photo. A freight train of autocarriers soon passes. Although its CSX train it is led by a BSNF Locomotive, helped by a Canadian Pacific  one.
I get to the station with overcast skies but no more rain at 12:50 and find a few railfans on the platform wanting to photograph freights. No trains pass through during the next half hour but I chat with one of them a little bit.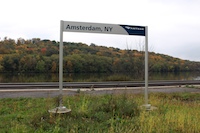 My next train, Empire Service Train #281, pulls in 5 minutes late at 1:45. There about 4 of us getting on. I'm first directed to the crowded intermediate coach near the cafe car but ask if I can go to the next car and that's luckily fine. There I find plenty of empty seats. I spend the last portion of this ride getting website stuff done, here are a few moments:
2:05– the Lake Shore Passes
2:44 – We get the announcement for Utica and that there will be 3 exits in the 2nd, 3rd and 4th coaches. The train today seems to have 3 conductors (including assistants).We pull in on the platform away from the station that requires using the overpass. I feel line I'm used to stopping next to the depot. The Adirondack Scenic Railway is making an excursion and is gone. Luckily we will use the overpass tomorrow to get on the scenic railway. Two passengers board my car.
3:03 – A very brief stop in Rome
I doze off and at 3:35 I realize I'm almost there, we're going through the DeWitt yard. A conductor comes by and tells me it will be another 15 minutes, there switching us onto a slower 30mph track that is off the two full speed main line tracks. He's right and soon we slow down and hear the click-clack of jointed rail. We still arrive early into Syracuse at 3:47, 6 minutes early. There not opening the full section of doors, just a few manually to the modern high-level platform. There a good half dozen people boarding. I presume because its Friday and students going to Albany or Buffalo for the weekend.
I walk the platform and not seeing my grandmother head downstairs. The car loop is jammed with a bunch of people standing at the MegaBus stop across from the main entrance. Two standing-room only Centro buses stop while I wait about 2 minutes for her to pull up.
We drive out of the station before #280 has even left, with the locomotive crew change. Train #281 finally leaves 4 minutes late at 3:57.