On Friday I'm making one of my regular trips to Syracuse to visit my grandmother. This time though I'm going a very unusual route via Springfield to finally ride the Lake Shore Limited through the Berkshires. I was able to plan this trip two weeks in advance to get the Northeast Regional 25% discount which makes a ticket between New Haven and Springfield $14 and a NYP to SPG ticket $29. Since I board Metro-North in Fordham ($12) it would still be $3 cheeper to take Metro-North up instead of the Regional. Taking the Regional to the Shuttle earns an extra 100 AGR base points off the bat and then I decided I might has well extend the trip into a full on points run for $3 with a trip down to Metropark two days before and a NYP-New Rochelle segment the day before. This multi-city ticket should earn me a total of 1,250 AGR points (500 TQP in my quest to requalify for Select+ for next year). Here is my full itinerary:

There is no discount for the Shuttle to Lake Shore Limited Transfer in Springfield (although one-way, non multi-city itineraries can be booked from as far South as New Haven on train 470 to train 449) so that I booked as a separate segment. There is a way to eek an extra 100 AGR points since #449 SPG-ALB #49 ALB-SYR appear as a connection and separate trains when the Lake Shore combines in Albany. Unfortunately the #449 to #49 option was about $15 more when I booked, I got the low bucket for the itinerary of $34.20. Total cost (not including my $3 for the Jersey segments): $63.20, less than $10 more than my low-bucket return ticket on Monday for $54.90, also a multi-city ticket with a few stopovers to finally visit Utica and two more going down the Hudson. Less than $10 more isn't bad for a trip whose milage is about 100 miles longer.
Since I'm not using another half of a NJT ticket like my other two New Jersey trips in less than a week to High Bridge and Bay Head I decided to spend the extra $2.30 and start my trip at Penn Station. I get on the A train at 9:20 to give myself enough time to enjoy the ClubAcela. I get there at about 10:00am earlier that I expect. I go inside and notice that the soda machine has been fixed since two weeks ago but there is the same old coffee maker (not the fancy packets in the much nicer Philadelphia ClubAcela). I grab an overly processed Blueberry Muffin and piece of Sarah Lee Pound Cake, and eat both before I make the mistake of looking at the wrappers, I'm not watching my weight but realize combined there nearly 600 calories.
Eventually I leave to visit an NJT TVM. My first destination of the day is Perth Amboy. NJT fares are so ridiculous that I realize I'll save a quarter by taking the 10:33 NE Corridor Line train to Linden, have a six minute layover and then board the next North Jersey Coast Line train costing $8.00 and $3.25 respectively instead of $11.50. Soon Track 13W for the the 10:33 train posts. I first have to get by a blob of a line sprawling across the entire concourse for Regional Train #95 on 12W and then go down the escalator directly from the upper level concourse (the only time I use the Amtrak gates, for NJ Transit Trains) to board my Arrow MU train. Were on an LIRR platform with their signage and access to the West End Concourse if I ever arrive on this track. I walk up to the nearly empty front car.
10:43 – Arrive in Secaucus, the regional train I had to step around the line for zooms by as we stop in the station. I hear the voice announcing my North Jersey Coast Line train in six minutes.
10:53 – Arrive Newaek, hear the same voice announce six minutes until my next train.
10:56 – The Vermoter passes, two AEM7 locomotives hauling a cab car and the short consist.
10:57 – EWR Airport, the lights are on like my last trip through here. I like the conductors announcement of Please move your luggage now to the nearest exit and enjoy your trip. "local train to Trenton, North Elizabeth followed by Broad St-Elizabeth, regular Elizabeths original name"
11:04 – Elizabeth more people get on than off at least in my now getting crowded car.
We arrive in Linden–(9 Photos) at for my uneventful 5 minute layover at 11:05. No other trains pass through the station. My North Jersey Coast Line train comes in on time at 11:10.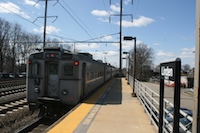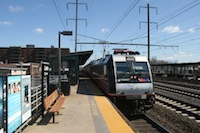 As we leave Linden a southbound Pennsylvanian passes us. Then an Acela, I should have done Rahway for my layover (would have cost a quarter more). The conductor punches the LINDEN to PTH AMB ticket. We stop at Rahway and the train starts wrong-railing before Avenel that we bypass.
11:27 – wrong rail into Woodbridge, only the vestibule, not middle doors on the MLVs open.
We get to Perth Amboy at 11:33 . I have a great layover of the wonderful historic station house that has booth upper and lower waiting rooms still open to the public but no ticket agent. I know NJT is planning to give the station the High Level platform treatment and I hope they do it in a way that doesn't destroy the integrity of the historic station, shelter and open-cut trench that the station is in as trains pass through Downtown Perth Amboy. I buy my ticket from the TVM. I get lucky with the slight variations in timing of hourly North Jersey Coast Line trains with a northbound train passing both soon after I arrive and right before I depart.
The train has the nice scenic crossing over Raritan Bay and stop at South Amboy. Then the conductor comes to collect my $2.25 PTH AMB to ABD-MWN ticket.
I get off at Matawan (the signs include Aberdeen-Matawan, crews just call it Matawan). I first photograph the modern platforms that opened in 1999 at least from the year the artwork was commissioned. I also get of few photos of the modern ticket office that I'm amazed was designed to accommodate two possible agent positions. Across the street and grade crossing from the station is the historic 1875 station house and the original low-level platforms that sill have a faded yellow line before modern fences. This building is clearly used by New Jersey Transit's maintenance of way or some other department. Using Google Earth I've noticed the oringial station is in Matawan Borough, but the new station across Atlantic Avenue is in Aberdeen Township, Jersey's tiny fiefdoms. I photograph a northbound train coming through and then its time for my main walk of the day.
As the driver goes the distance from ABD-MWN to HAZLET is only 2.5 miles if I could walk via NJ-35 but I know that road (from Google Street View) is one of New Jersey's awful four lane divided highways with no real sidewalks and stores along each side. I instead opt for the Henry Hudson Trail that provides a nice 3 mile walk. I assume that I'm going to miss the next hours train at 2:18 until I realize its 2:15 and I'm just up the hill from Hazlet. Unfortunately this train is right on time and I see it arrive but am too far away to quickly snap some photos and get on. Hazlet is a modern high-level station with a few benches that have tiny windscreens and do a poor job keeping the wind out. 2002 is when its artwork was commissioned. The stop is in a residential area with a deli that I only notice before the next train arrives. There some employees (with their New Jersey Transit trucks) painting the brown rims of the windscreens. I photograph the next southbound train (the automated voice says westbound for Long Branch-bound, Eastbound for Penn Station-bound which is opposite the actual direction for the North Jersey Coast Line. I guess that's how NJ Transit defines all their operations) from the other grade crossing (this stop is also between two). At that point the painters have left and I finish my photo essay.
I buy another $2.25 ticket from HAZLET to S AMBOY and take the 3:21 train of different single-level Comets. We get to Matawan and sit there for a few minutes. while we have the nice scenic ride along the shore the conductor comes to punch my ticket. I get off at the nice and scenic South Amboy Station with a modern high-level island platform opened in 2009 just north of the original station that still has its low-level platforms and historic station house. I have a great time photographing this station with the modern wide overpass and original low-level platform you can still walk down plus two southbound trains. One is a train that terminates at South Amboy and I even consider taking this train on its next northbound run to Rahway. I buy my final and fifth NJT ticket of the day for $3.25 from S AMBOY to MET-PK via RAH and take the next northbound train at 4:26.
I have an uneventful ride, get the first punch on my ticket but again enjoy the scenery across the Raritan Bay to Rahway–(23 Photos) and get there at 4:43. My phone is dying and I don't know the time of the next NEC train to go one stop from Rahway to Metropark. The next train isn't until 5:11 (the next northbound North Jersey Coast Line train would have arrived at 5:06). I first have to find a different staircase to use other than the one closest to me because the janitor is scrubbing the steps so I walk to the front of the New York-bound side platform and wonder over to the main island platform for my train. I get more photos of trains going through Rahway to add to my already large collection.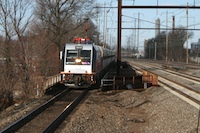 At 5:16 my southbound train of Arrow-IIIs and the conductor even has a chance to punch my ticket. I get off at Metropark–(19 Photos) at 5:22 and use the underpass into the main station to print out a paper ticket for my Amtrak trip since my phone is dead. I have a fun time watching the trains passing and mostly stopping in the station. I find a train that comes in at 5:32, 3 minutes early without any time information on the departure boards this busy station has installed. I look at a timetable and realize its a 5:35 reverse peak trip that originates at Metropark, runs non-stop to the Airport and into Penn Station. I also can't figure out where the train originates (NJ Transit has some reverse-peak express trains that have wacky stops that are clearly trying to get back to Penn Station as fast as possible for another peak-direction run but they don't want to just deadhead). I also find it amusing that the Keystone train I'm connecting to in Newark is discharge only
My camera officially dies as an HHP-8 leads train #148 to Springfield into Metropark at 5:51. I see the conductor and board next to the cafe car. I immediately notice that its one of the Club Dinette cars normally used as the Business Class Car on less utilized routes outside the Northeast Corridor. It has the nice comfy 2 by 1 ex-Metroliner seats. I double check with the conductor that the seating is regular and not buissiness class. He tells me to sit down (there must be a normal a Business Class car elsewhere on the train) and I take a single seat. It's quite comfortable but I'd still take a regular coach seat on a Superliner over it. We leave Metropark and I zone out watching northbound trains on the Northeast Corridor. I fully recline the seat (It's extremely generous) and try the leg/calf rest, this doesn't  work for me since there isn't enough legroom to make it at all comfortable. The footrest attached to the forward seat puts my long (I'm 6 feet) legs in an award position. The window feels too far away from my seat. I also don't like the noise from the counter in the cafe car (the certain, which does nothing for noise is kept open for the entire ride).
At 6:06 stop at the airport and get announcement that "The only accepted tickets are Amtrak tickets for train 148. No pink tickets we don't accept New Jersey transit tickets." The cafe car also closes. It's four minutes to Newark Penn Station, that gets an announcement of both this is Newark-Penn Station, and this is Newark, New Jersey. (Newark and New York do sound a bit similar and I'm sure passengers have gotten off at Newark thinking their in New York without realizing it). We actually get to Newark at 6:14, arriving on track 2.
I have 16 minutes before my 'L' Keystone departure. One major issue I have with the departure boards in Newark-Penn Station is that their limited to the next 11 departures. Only 8 are listed on the Solari board in the main station. Since it's rush hour there more than this many trains during my 16 minute layover. So I don't know my track. I go downstairs to stand in front of the nice flip board and wait for my track assignment. I hear a man ask at the information window (after the train has appeared on the boards that can list the next 11 trips, but not on the Solari board yet) what the track is for the 6:28 Acela to Boston. The women tells him a track hasn't been posted yet. All trains gets tracks though as soon as they appear. The information booth at least needs a display for more than the next 8 trains. This train ends up being on track 2 and track 1 is posted for my Keystone.
6:31 – My keystone train enters cab car first. The train pulls up to the very front of the platform, good think I'm not waiting farther by the slight curve into the station. The conductor gets off and I flash my ticket to the conductor who promises he will come scan me.
He doesn't come to scan me until after Secaucus and I find him in the row of seats at the very back of the train. This requires pushing my way through people who have already lined up in the aisles to get off. I explain that need my ticket scanned so the rest of my reservation doesn't cancel. His response is that I will just get a refund and what's wrong with that. I show him my stack of five segments and three tickets and that my entire trip is in jepordy if he doesn't collect this one ticket. The issue is that he has already logged out from the ticket scanning app Amtrak uses on their crew iPhones. He apparently needs wireless coverage to log back in and they haven't rigged the North River Tunnels Yet. We come to a stop at the tunnel split waiting for a track and as we enter the station the iPhone app loads and I finally get my ticket scanned as I arrive.
I get off the Amtrak train and do the walk I've done countless times like this morning down the stairs and up the stairs to the A train to head home.