North Elizabeth

Newark Airport

Elizabeth
North Elizabeth is a lightly served Northeast Corridor and North Jersey Coast Line station. It is basically closed on weekends (with two southbound trains stopping seemingly randomly at 4:41pm and 5:41pm) and weekday service is limited to 12 AM Peak and 5 PM Peak trains running towards Newark but roughly hourly throughout the midday period running away from Newark (36 total trains) to provide ample return travel for commuters. Unlike at Jersey Avenue where inbound service is limited due to track and platform constraints, the stop has the standard two high-level side platforms on the 4 track Northeast Corridor Mainline that were built in 1987 replacing low-level platforms, the only explanation for the unique service patterns is ridership, trains are provided only for New York-bound AM commuters to leave the station but they receive plenty of trains to return. The platforms are shorter than at most NEC stations, for just four cars on the Newark-bound track and six on the Trenton/Bay Head-bound track
Starting from the northern end, the stations two side platforms begin with a staircase down to the underpass of North Avenue. Here a few remains of the original low-level platforms are visible. On the New York-bound platform this is where the modern brick with an unusual roof station house probably from 1987 with the renovations occurred, just overlooking the steep hillside down to the open-cut of North Avenue's underpass. I couldn't find the hours of this waiting room actually being open but a few park style benches were visible inside. The station house is actually at the same level of the high-level platforms and leads directly out to them. Two TVMs are located beneath a little canopy right outside of it. This platform is canopied for half of its length starting from its northern end and along this portion is a 56 space permit only parking lot. The accessible ramp is up from this parking lot as well.
The Trenton-bound platform begins with a tiny little canopied area at its northern end (maybe a car length) where there is a tiny area enclosed by windscreens where the one TVM is. The rest of the platform is exposed. The middle of the platform has a ramp down to the station's 67 space parking lot with an entrance from Pennsylvania Avenue parallel to the tracks. On the edge of this parking lot is a small, vandalized with portions of the damaged white windscreens, shelter for TVMs saying Tickets on the white roof. Towards the southern end of the platforms a staircase leads up from each to the overpass of Hand Place with a narrow sidewalk separated from the roadway with a high fence blocking any overhead track views.
All photos were taken on 1 February, 2012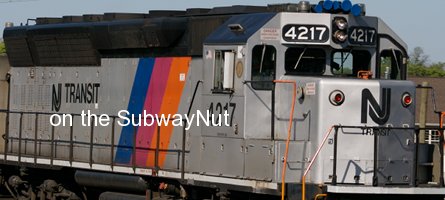 Last Updated: 19 August, 2012
This website is not allifiated with New Jersey Transit, their official website is here
This Website is maintained and copyright © 2004-2021, Jeremiah Cox. This website is not affiliated with any transit provider. Please do not remote link images or copy them from this website without permission.