Harvard was the original terminus of the Red Line from 1912 until it was rebuilt in the early 1980s for the red line extension to Alewife that opened in 1984. The station has two stacked platforms with the outbound platform and track on top on the inbound platform. There is a secondary exit with a staircase and up escalator from the outbound platform (and staircases connections at it to the inbound platform), to a small fare control area with faregates out to a street stair on either side of Massachusetts Avenue just south of Church Street and Harvard Square. The main station entrance and exit is at the extreme inbound end where both platforms ramp down and into each other and reach a large underground lobby where fare control is immediately leading out to a few shops and ramps and staircases lead up to the bi-level Harvard Bus Tunnel, a wide staircase/escalator structure and an elevator leads up to Harvard Square itself. The walls are tiled both red and cream colored.
The Harvard Bus Tunnel originally built for streetcars is still used by both trolleybuses and regular diesel buses. The lower level is used by two of MBTA's three surviving trolleybus routes, the 71 and 72, this tunnel has left hand running and trolleybuses have a special left-hand door in the middle of the bus for loading. Regular diesel buses (with only doors on the right side) also may discharge passengers on this level requiring passengers to walk out in front of the bus to reach the tunnels exits. The upper level is used by the third regular trolleybus route 73, and 77A, a designation for short-turn trolleys on bus route 77 used to access the garage, and six regular bus routes (74, 75, 77, 78, 86 and 96). The bus tunnels are a bit poorly designed due to the fact that they have a single lane meaning already loaded buses cannot pass buses that are loading at the stops that are placed at regular internals within the tunnels. It though provides a nice unique way to board buses without ever facing the weather. The bus tunnel even has little old Harvard mosaics on its cream colored walls with a red trimline.
Photos 1-20 taken on 27, 28, or 29 of June, 2011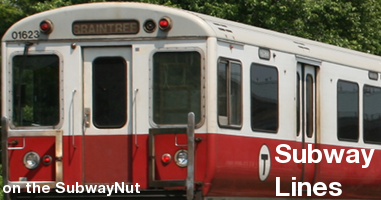 Last Updated: 22 July, 2011
This website is not affiliated with the Massachusetts Bay Transportation Authority. Their official website is here
This Website is maintained and copyright © 2011, Jeremiah Cox. Please do not remote link images or copy them from this website without permission.