Ashmont is the terminus of the Heavy Rail Red Line, and where passengers can transfer to PCC Streetcars running in regular service (it's not a heritage streetcar line, PCCs have run on the line continiously) on the High Speed Line to Mattapan, also colored red on maps. The station is inside a completely covered by the station building trench with trains entering a subway, just north of the station. The modern station building has glass allowing light to flow down to the platforms below. The stop has two side platforms for the two-track line with trains discharging on one platform for continuing beyond the station to relay and change direction on one of two relay tracks that then continue beyond the station into the Ashmont Train Yard. The track for terminating trains is an exit platform that lacks any fare control so outbound passengers must pay again if they arrive on a terminating train and want to change directions and head back inbound.
The subway platforms begin just after Dorchester Avenue, just south of Ashmont Avenue and Peabody Square. A new plaza with some artwork installed during the stations 2005 to 2007 renovation welcomes passengers from Peabody Square, where one major entrance with faregates to the Inbound platform only leads into the station from a street-level mezzanine, including an elevator. The Outbound platform has a few additional exit only staircases that lead up to the bus loop that is at street level parallel to it. An additional exit with an elevator and staircase leads up to a second fare control area at the southern end of the Inbound platform. This primarily serves passengers connecting to the Mattapan Trolley, which starts at a loop at street level just south of the Red Line station.
Photos 1-12 taken on 28 June, 2011; 13-29: August 2, 2021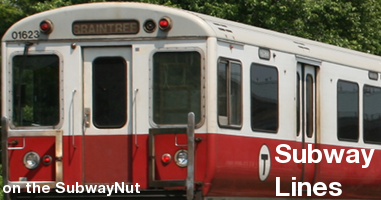 Last Updated: 1 July, 2011
This website is not affiliated with the Massachusetts Bay Transportation Authority. Their official website is here
This Website is maintained and copyright © 2011, Jeremiah Cox. Please do not remote link images or copy them from this website without permission.