Stony Brook is another Orange Line Station along the ROW with the NEC whose island platform feels like it is underground with the exception of daylight screaming in from either end of this platform through the tracks and windows along the portion where the ceiling rises to provide for the single staircase/up escalator and elevator the station house at the northern end of the platform that turns 180 degrees to be situated above the NEC tracks where the faregates are the exit doors from the station on the northside of Boylston Street.
Photos 1-8 taken on 28 June, 2011, 9-17: 21 December, 2013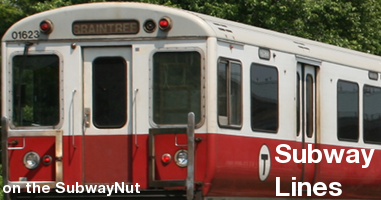 Last Updated: 24 July, 2011
This website is not affiliated with the Massachusetts Bay Transportation Authority. Their official website is here
This Website is maintained and copyright © 2011, Jeremiah Cox. Please do not remote link images or copy them from this website without permission.