Ruggles is a major station for Northeastern University and bus connections. The main mezzanine of the station has a high arched glass ceiling and feels airy and straight out of the 1980s when the station was built. Coming from the east it begins with a staircase up from Southwest Corridor Park a short ways away from Tremont Street. First there are a few staircases down to one set of bus platforms. This is followed by the Commuter Rail platform with a long high-level island platform so only two of the three tracks of the Northeast Corridor can platform here accessed via a staircase, up escalator/staircase and elevator from the central mezzanine. The northern end of the platform is closed off by a plywood fence. Train service is fairly frequent with many (but not close to all) trains on the Franklin, Needham, and Providence/Stonington Lines stopping. Back to the concourse next are the faregates and entrance to the Orange Line, its island platform is accessed via two staircases/up escalators and an elevator. The Orange Line platform at its southern end has an additional exit to Ruggles Street via a staircase up to a high turnstile. The mezzanine's western end is to another bus loop platform and staircases up escalators and an elevator down to Forsyth Street and Northeastern's Main Campus.
Photos 1-17 taken on 28 June, 2011, 18-33 on 15 December, 2011

-->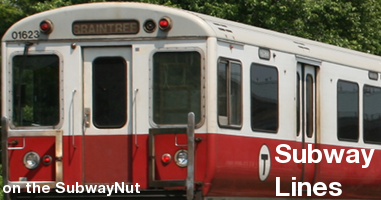 Last Updated: 21 December, 2011
This website is not affiliated with the Massachusetts Bay Transportation Authority. Their official website is here
This Website is maintained and copyright © 2011, Jeremiah Cox. Please do not remote link images or copy them from this website without permission.