Mattapan is a multi-modal station and where the trolley barn is that stores and maintains the PCCs used by the High-Speed Line are. It is also a major bus terminal and transfer point. The stop has a complicated track pattern with terminating outbound cars discharging to a side platform, shared with a bus loop. Cars then reverse on a loop that provides additional switches to the loops into the couple of storage tracks and barn of the yard. To reenter service there is an island platform for two tracks that can serve trains simply reentering service or entering from the yard. These tracks, beyond the station, switch to become one for the inbound track. There is a second bus loop opposite this island platform with more bus stop bays. Booth of these platforms are fully canopied with red beams and a translucent roof. At the eastern end of the station beyond the loops is a building that houses offices such as the transit police. Walking along this building from the square formed by Blue Hills Pkwy, River St, and Cummins Highway along the busway is the main way to access the station. There is also access from Gillespies Lane and the stations 100 parking space lot.
Photos 1-10 taken on 28 June, 2011; 11-21: August 2, 2021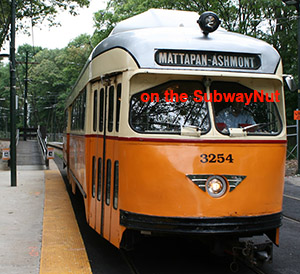 Last Updated: 1 July, 2011
This website is not affiliated with the Massachusetts Bay Transportation Authority. Their official website is here
This Website is maintained and copyright © 2011, Jeremiah Cox. Please do not remote link images or copy them from this website without permission.