Washington St is an unusual slightly more established 'B' branch platform. It consists of two narrow side platforms that have been recently renovated that run eastward from the intersection of Washington Street. The walls of the platforms have Jersey barriers with fences above restricting platform entry to the intersection. These each have a modern tactile warning strip, a steel and glass canopy, and a wooden mini-high platform ramp at the opposite end from the platform entrances for ADA boarding.
All photos taken on 16 December, 2011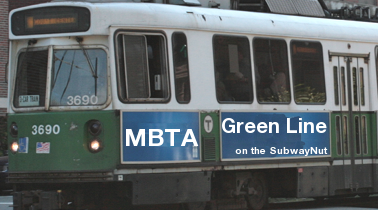 Last Updated: 30 December, 2011
This website is not affiliated with the Massachusetts Bay Transportation Authority. Their official website is here
This Website is maintained and copyright © 2011, Jeremiah Cox. Please do not remote link images or copy them from this website without permission.