Washington Square is a more established ADA compliant green line station with two wider fenced in platforms that each include a tactile warning strip, mobile-lift for ADA access and a modern steel and glass shelter with a bench inside of it. There are also a few Washignton Sq. signs and a vintage clock with the square's name engraved in it along the platform. The station is located right between the intersections of Washington Street and Westbourne Terrace that is more of just a U-turn. Both platforms have parking spaces along them.
All photos taken on 16 December, 2011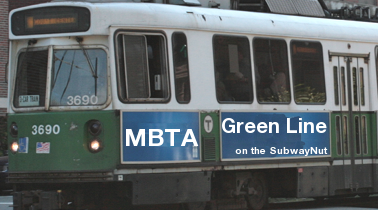 Last Updated: 23 December, 2011
This website is not affiliated with the Massachusetts Bay Transportation Authority. Their official website is here
This Website is maintained and copyright © 2011, Jeremiah Cox. Please do not remote link images or copy them from this website without permission.