Fairbanks Street Station is one of two located in the portion of Beacon Street where the two roadways are on different elevations due to a hill. The station is along the lower eastbound roadway and has two simple side platforms with yellow paint safety lines. The inbound platform also has a bus shelter and an entrance via a crosswalk to the SW corner of Fairbanks and Beacon Streets. The outbound platform has a long staircase up to the upper roadway of Beacon Street and a crosswalk at the T-intersection with Lancaster Terrace. This staircase has an electronic wheelchair lift platform up to the top of the hill. The steps are also dedicated to someone, a name is engraved in the top step. (I only noticed when I was going through my photos after visiting.)
All photos taken on 16 December, 2011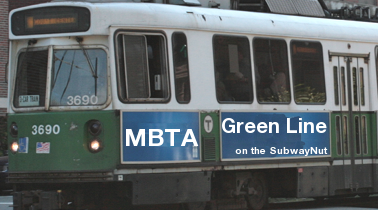 Last Updated: 23 December, 2011
This website is not affiliated with the Massachusetts Bay Transportation Authority. Their official website is here
This Website is maintained and copyright © 2011, Jeremiah Cox. Please do not remote link images or copy them from this website without permission.