As of 2005: Riverside is the western (outbound) terminal of the MBTA "D" Riverside Branch. The "D" branch runs the farthest out of any of the Green Line Branches. It's really a high-speed rapid transit line, having all stations placed fairly far apart, and being entirely in a viaduct or embankment with no street-level sections. There is a premium fare of $3.00 for boarding inbound Riverside-Chestnut Hill East, and $1.50 between Reservoir and Fenway. Going outbound at service stations is free. The Riverside Station is a suburban station with no local industry around, just a very large park-in-ride lot with 925 spaces, which doubles as an express bus park-in-ride. There is also a seperate building that is a stop for World Wide Bus to New York City. The station is right at Route 128/I-95 the highway which makes a semi-circle outside of Boston. The station area is also the location of one of two Green Line yards and maintenance facilities, with the yard on the western side of the parking lot. The stop has a a modern concrete reciently rebuilt facility with two tracks and two platforms, track 2 is used only by incoming trains discharging passengers and lets out to an island platform that is shared with track 1 that also has a side platform. Doors are only open on the side platform for originating trains leaving for Boston. The station itself is one of the few green line non-subway stations to have fare control facilities inside the station, in most cases on inbound trips the fare is paid on the train, outbound trips boarding outside the subway section are free. During the AM rush hour only an attendant is on duty at the ticket window, and fares are paid before boarding. Most people pay at the ticket window since the turnstiles accept passes or 3 dollar coins to pay the fare, not Tokens. At other times the fare is paid onboard the trolley, there are change machines available, although all of them were out of order when I was their, most seemed to be broken at every station on the 'D' Branch. This is due the MBTA version of a MetroCard, The CharlieCard is currently being introduced although still in the experimental phases, so their not bothering to replace or fix broken Change Machines.
Today: On January 2, 2007 the zone fare system on the green line (and red lines) were discontinued so now all rides are $1.70 with a Charlie Card, $2.00 with a Charlie Ticket. The station now is always a fare paid zone with newly installed Charlie Faregates in a little sheltered enclosure just beyond the old closed cashier's booth. It appears that a free change of direction transfer can be made here meaning an out and back railfanning trip can be made on the 'D' Branch of the green line for free. A small enclosure that has doors that can close it off along the drop-off area below the station entrance houses the Charlie Vending Machines.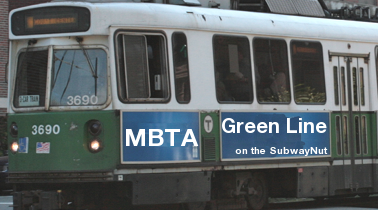 Last Updated: 7 July, 2011
This website is not affiliated with the Massachusetts Bay Transportation Authority. Their official website is here
This Website is maintained and copyright © 2011, Jeremiah Cox. Please do not remote link images or copy them from this website without permission.