Hynes Convention Center is an underground Green Line station with two side platforms and a free crossover provided. For access, in the middle of each platform two staircases lead up from each platform to a small mezzanine area where the bank of faregates are before two staircases up to the street. One leads to Massachusetts Avenue right alongside a bridge over I-90, the Mass Pike. This entrance on the staircase has a depiction of an old streetcar. The other is to around the corner to Newbury Street. Both entrances are set inside buildings. At one end of the platforms there is also a closed direct entrance into the Convention Center.
All photos taken on 29 June, 2011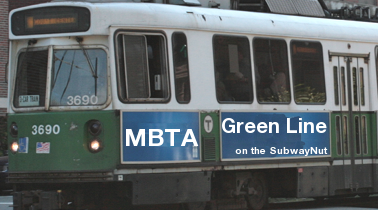 Last Updated: 5 July, 2011
This website is not affiliated with the Massachusetts Bay Transportation Authority. Their official website is here
This Website is maintained and copyright © 2011, Jeremiah Cox. Please do not remote link images or copy them from this website without permission.