Harvard Avenue is an accessible and renovated Green Line station in the northern median between the main roadway of Commonwealth Avenue and main center through-traffic roadway. The platforms are offset from each other with trolleys stopping before crossing Harvard Avenue. Each platform has a tactile warning strip with a mobile lift for wheelchair passengers to board high-floor trolleys, are separated from traffic by a Jersey barrier with a fence on top plus a regular station sign and maps. The Outbound platform also contains a red shelter structure and an additional entrance at its western end from the intersection of Reedsdale Street and Commonwealth Avenue.
All photos taken on 16 December, 2011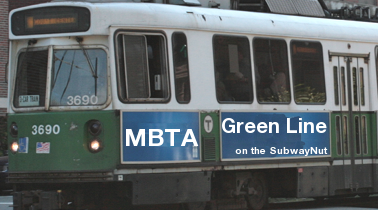 Last Updated: 4 November, 2020
This website is not affiliated with the Massachusetts Bay Transportation Authority. Their official website is here
This Website is maintained and copyright © 2011, Jeremiah Cox. Please do not remote link images or copy them from this website without permission.