The Fenway is the first station on the 'D' branch after it leaves the 'B' and 'C' branches beyond Kenmore. Before the T eliminated zone fares on January 1, 2007, this stop was the first on the 'D' branch were a ride was not just a token. Inbound trips cost a $1.50, and outbound trips were free. Passengers wanting to board for just a token could walk the short distance to St. Mary's Street on the 'C' branch. The stop has some signs for Fenway Park but isn't the closest to the stadium, Kenmore is. The stop, like every stop on the 'D' branch that uses the former grade separated right-of-way of the Boston and Albany Railroad, has two low-level side platforms, these now have tactile warning strips. The inbound platform has the standard modular enclosure with TVMs, and both platforms have modern canopies with benches beneath them. There is a wide paved area mid-platforms to cross the tracks. For ADA access the inbound platform has a wooden ramp at its outbound end, the outbound platform has a mobile lift. The stop is located beneath the overpass of Park Drive that has a cornerstone on it saying it was completed in 1950. It has a staircase down from the east side of the street near bus stops that have shelters labeled for Fenway on them. An additional entrance is from a pathway at the east end of the inbound platform that leads to the Landmark Center. There is a siding beyond the inbound platform where MOW equipment is stored.
All photos taken on 16 December, 2011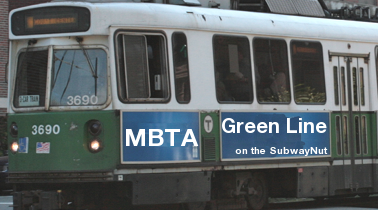 Last Updated: 21 December, 2011
This website is not affiliated with the Massachusetts Bay Transportation Authority. Their official website is here
This Website is maintained and copyright © 2011, Jeremiah Cox. Please do not remote link images or copy them from this website without permission.