Bringham Circle is the last station on outbound trains before trains leave their central reservation of Huntington Avenue to run mixed with traffic the rest of the short three-quarters of a mile to the terminal at the Heath Street loop. The stop has two offset side platforms in the central reservation for cars in each direction. Each of these side platforms has a concrete barricade separating it from the street along with one canopy structure on the outbound, two on the inbound per slightly high (for ADA compliant level boarding with type 8 LRVs) platforms with benches. The platforms are offset with the front end of the outbound platform at Bringham Circle, continuing midway down the block where there is another crosswalk and the inbound platform extends to an odd intersection that only northbound traffic has with Wigglesworth Street and Smith Street.
All photos taken on 29 June, 2011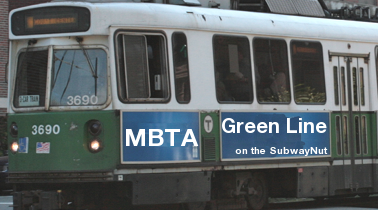 Last Updated: 3 July, 2011
This website is not affiliated with the Massachusetts Bay Transportation Authority. Their official website is here
This Website is maintained and copyright © 2011, Jeremiah Cox. Please do not remote link images or copy them from this website without permission.