Boston University West (originally named Armory Street) is a not accessible Green Line station, that is supposed to be combined with the nearby St. Paul Street station into one single station as part of station consolidation project building two new longer accessible platforms between the two existing stations with entrances from the same cross streets.
The stop consists of two very narrow side platforms in the median of Commonwealth Avenue with a fence running between the two tracks. The platforms have a single entrance at crosswalk only traffic light to both sides of Commonwealth Avenue where Amory Street ends in a right-turn only T-intersection with the eastbound lanes of Commonwealth Avenue south of the station. To the north of the station is the main building for BU's College of Fine Arts. The platforms each have two modern black shelters with advertisements, and regular signs that read Boston Univ. West above Green Line maps and drawings showing Boston University Athletics particuarly it's mascot the Boston University Terriers, and other pieces of artwork. The next two stops in the Outbound direction, St. Paul Street and Pleasant Street are closer to BU's football field and arena.
All photos taken on 16 December, 2011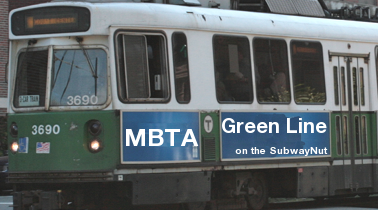 Last Updated: 11 November, 2020
This website is not affiliated with the Massachusetts Bay Transportation Authority. Their official website is here
This Website is maintained and copyright © 2011, Jeremiah Cox. Please do not remote link images or copy them from this website without permission.