Babcock Street is a not accessible Green Line station that is supposed to be combined with the nearby Pleasant Street station into one single station as part of station consolidation project building two new longer and wider accessible platforms between the two existing stations with entrances from the same cross streets.
The stop consists of two narrow side platforms in the median of Commonwealth Avenue with a fence running between the two tracks. The platforms have a single entrance at the eastern ends of the platforms from the intersection of Babcock Street. The Outbound platform is fully exposed to the elements, and the street (no fence) the Inbound platform has a narrow shelter with black framework and two separate sections of white domed roofs, and has a jersey barrier between it and Commonwealth Avenue.
All photos taken on 16 December, 2011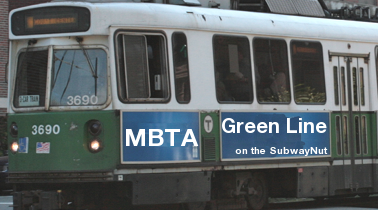 Last Updated: 4 November, 2020
This website is not affiliated with the Massachusetts Bay Transportation Authority. Their official website is here
This Website is maintained and copyright © 2011, Jeremiah Cox. Please do not remote link images or copy them from this website without permission.