Long Island Rail Road
Greenport Branch 'Scoot'
on the SubwayNut
Stations
3 to 4 Scoot Shuttle
Trains per Day
Change for
Ronkonkoma Branch
Trains to Penn Station
or Atlantic Terminal
The Greenport Branch Shuttle/Soot is the name given to the infrequent Scoot trains operating the diesel portion of the Long Island Rail Road main line that runs the final 46 miles from Ronkonkoma to Greenport along the North Fork of Long Island on a single tracked line. Since main line electrification reached Ronkonkoma in 1987, nearly all service between Ronkonkoma and Greenport has been served by very infrequent diesel trains between Ronkonkoma and Greenport that connect with Main Line electric trains to and from Penn Station. It is the only LIRR branch that doesn't provide any one-seat ride service to and from Jamaica (with rush hour service to Penn Station or Long Island City on the other diesel branches).
Service on the line as of 2021 consists of 4 weekday trains in each direction between Ronkonkoma and Greenport (an early morning 3:45am to 5:09am on weekdays trip doesn't connect with an electric train in Ronkonkoma but passengers are permitted to ride). Weekend service varies seasonally with 4 roundtrips in the peak season from May through October, and 2 round-trips in the off season. On weekdays there is an additional early PM rush hour round-trip to and from Yaphank. All of these trips are run with one single train consist of one or two C3 bilevel cars and a DE30 locomotive. The stations on the line all have the bare minimum one and half-car long high-level platform built in 1999 in preparation of the new C3 cars that could no longer stop at low-level platforms. This current amount of service started in 2018 and is the highest it's been since at least the 1990s.
On Fridays the trainset used for the 'scoot' is swapped out for maintenance purposes in a generally non-revenue deadhead move to and from Jamaica. Since 2016 on Summer Fridays the normal early evening trip that short-turns at Yaphank is extended to Greenport, and returns with passengers allowed to ride in service on an non-stop diesel ride from Ronkonkoma to Jamaica, that leaves Greenport at 8:29pm.
The amount of service on-line is the highest it's been since electrification was completed to Ronkonkoma in 1987. In 2010 the LIRR tried to make the line run only seasonal in Summer just to serve the tourists flocking to the North Fork (in much lower numbers than the South Fork), but this was met with community opposition. Weekend service was discontinued in the off season between 2010 and 2016. Service on the line used to be poorer, as of 2015 there were just two weekend round-trips (during the season) and three trains per weekday from Greenport, with only two trains to Greernport (this train has a middle of the night deadhead, today this deadhead is in service). There was an additional round-trip that only ran between Ronkonkoma and Riverhead instead. This outbound train that departed Ronkonkoma during the AM rush hour, when the still single tracked nature of the line didn't allow reverse-peak service originated in Deer Park without any western terminal connections and ran to Riverhead, branded as the Jury Special for Western Suffolk County residents required to go to Jury Duty at the Suffolk County Seat in Riverhead (with shuttle buses to the courthouses near the Riverhead station), it was never very successful.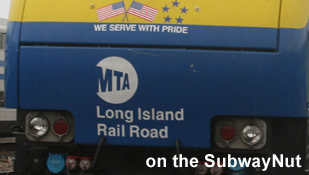 Last Updated:20 February, 2021
All photos are by Jeremiah Cox
This website is not allifiated with the MTA Long Island Railroad, their official website is here
This Website is maintained and copyright © 2003-2021, Jeremiah Cox. This website is not affiliated with any transit provider. Please do not remote link images or copy them from this website without permission. Contact the Webmaster