Waterbury is the terminus of Metro-North's Waterbury Branch which isn't electrified. The station is the farthest away from Grand Central at 87.5 miles, and is served by a two to 3 car diesel shuttle pulled by normally a Brookfield BL20GH Locomotive. The station is located just south of the historic Waterbury Union Station, now home to the Waterbury Republican Newspapers Offices. The station itself is modern but primitive, with a short two car long high-level covered platform and a bus shelter with a bench in. The station is Wheelchair accessible with a ramp up to the platform from a small parking lot. The station like the rest on the Waterbury Branch has no TVMs or ticket offices so cash fares can be paid on board without the surcharge.
All Photos: 5 March, 2005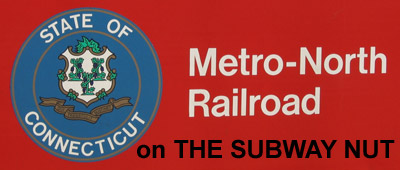 Last Updated:26 January, 2019
All photos are by Jeremiah Cox
This website is not allifiated with MTA Metro-North Railroad, there official website is here
This Website is maintained and copyright © 2003-2019, Jeremiah Cox. This website is not affiliated with any transit provider. Please do not remote link images or copy them from this website without permission.