Naugatuck is a Waterbury Branch Station with a historic 1911 station house. This large single story building has two additional wings. The building is made of concrete walls with brickwork forms that resemble trim around the windows. A grand clock is above main platform entrance with a long canopy covering the former completely low platform waiting area. Sadly the station is no longer in Metro-North passenger use. Instead it has been restored by the Naugatuck Historical Society, a small Connecticut Department of Transportation/Metro-North Railroad sign hangs from the eves of the station house but passengers no longer board trains outside of it. Instead trains stop at a newish, probably 1980s or 1990s, tiny low-level platform that is maybe thirty feet long and is about 150 feet north of the historic station house in the fairly large parking lot with 150 spaces. It is a concrete pad framed by railroad ties. Access to the platform, with a tactile warning strip, is from a short ramp along its backside and three steps up a staircase. Amenities on the platform are a double-length, black with a white domes bus shelter (and a built in bench), and a modern sign (of the white text variety) above a normal blue trash and recycling center. Black fencing keeps people up on the platform. The station has a single entrance at the end of Cedar Street where it intersects Water Street (parallel to the station platform).
All Photos: 2 August, 2015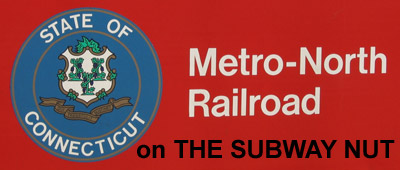 Last Updated:2 August, 2015
All photos are by Jeremiah Cox
This website is not allifiated with MTA Metro-North Railroad, there official website is here
This Website is maintained and copyright © 2003-2019, Jeremiah Cox. This website is not affiliated with any transit provider. Please do not remote link images or copy them from this website without permission.