Katonah is an upper Harlem Line Station that was rebuilt for electrification in 1984 with the station moved north of the Jay Street grade-crossing. The original station, opened in 1910 saw its ticket office closed by the New York Central railroad in 1954 and sold to private businesses. Today the enlarged depot is home to a liquor store and an Italian restaurant. There was a small waiting room inside the building for railroad passengers until the new station opened and it was relocated in 1984. The station is extremely close to the Connecticut boarder and the Connecticut transit agency Housatonic Area Transit (HARTransit) runs peak hour shuttles (using mini-buses) to Park & Ride lots in Ridgefield, Connecticut.
The current station consists of a single high-level island platform that can accommodate 8 cars for the two track line. The platform begins about 10 feet north of the Jay Street grade-crossing and runs north. The grade-crossing lacks a platform entrance and there is strong No Jumping, No Trespassing signage on the fence at the end of the platform. The platform has an enclosed pedestrian bridge (with TVMs inside it) in the middle of the platform. A canopy begins at the staircase down from the overpass and covers 3 cars extending south. The northern side of the bridge has an elevator. The bridge's western end is a short staircase down to Katonah Avenue (that has risen up on a bit of a hill above the tracks); here train riders have direct access to the shops in the village center. The eastern end has an elevator and staircase (leading to some benches in a little waiting plaza) to Lakeside Road and the stations main parking lot nestled between the tracks and the Muscoot Reservoir.
All Photos: 15 September, 2015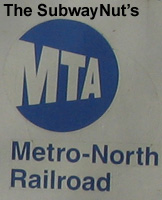 Last Updated:25 February, 2017
All photos are by Jeremiah Cox
This website is not allifiated with MTA Metro-North Railroad, there official website is here
This Website is maintained and copyright © 2003-2019, Jeremiah Cox. This website is not affiliated with any transit provider. Please do not remote link images or copy them from this website without permission.