Beach 44 St-Frank Av is a standard Rockaway Line elevated station. It has two side platforms on the two-track line. The stations exits are to all four sides of Beach 44 Street, accessed via the standard Rockaway Line Station house mezzanine right towards the middle of the platforms.
Rebuilding: The station was completely rebuilt between 2009 and 2011 along with every other stop on the Rockaway el. This rebuilding included replacing the original windscreens with green and cream full-height ones beneath the platform canopies and unfortunately replacing the original low fences with modern full-height mesh windscreens towards the ends of the platform. To allow this rebuilding to occur Far Rockaway-bound trains skipped the station from September 8, 2009 to January 18, 2010 and Manhattan-bound trains skipped from September 7, 2010 to January 28, 2011.
2013 4 Cars Only Platform Closure: After Superstorm Sandy the line across Jamaica Bay was extensively damaged. Subway service was first restored with a free H train running from Far Rockaway to Beach 90th Street using 4 car trains first of R32s and then R46s. An April 2013 visit found the southern half of the Far Rockaway-bound platform temporarily closed along with the southern staircase down to the station house and exit. Rockaway Park-bound H trains are stopping at the very northern end of the platform instead of the middle. The signage is a Road Closed sign with Road covered in tape. The reason is the platform looks a bit damaged and is being repaired.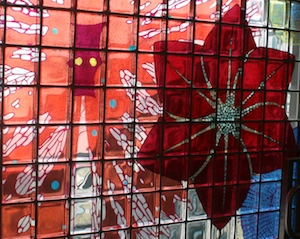 Arts For Transit at Beach 44 Street-Frank Avenue

Coom Barooom, 2011
By Jill Parisi


Warning: Use of undefined constant r - assumed 'r' (this will throw an Error in a future version of PHP) in /home/subwayn/public_html/ind/beach_44_franka/index.php on line 660

Last Updated: 26 April, 2009
This website is not affiliated with MTA New York City Transit, their official website is here
All photos are by Jeremiah Cox
This Website is maintained and copyright © 2003-2014, Jeremiah Cox. Please do not remote link or copy images from this website without permission. Contact the Webmaster
Temperary Station Banner