Home
<Histoirc Railroad Stations<
Elizabeth CNJ Station
The historic 1893 or 1894 CNJ Elizabeth Broad Street train station is located along the South side of the abandoned CNJ railroad ROW. Today it has been restored and is a branch (there four locations) of Michelino's Italian Restaurant, which was a surprisingly cheep and causal place for lunch on my trip to visit the station. It is a single story stone building with a giant and tall clock tower on top, that stands out as a monument. The roofline extends (like at many stations) to provide shade for what were once waiting passengers beyond the center of the building and onto the former platform area. It is located just west of the Northeast Corridor's Elizabeth Station whose platforms cross over the abandoned four tracks. Most of the CNJ ROW through Elizabeth is abandoned and unimproved with trees and vegetation growing in the former track beds, the tracks themselves still present. The area though in front of the station has been replaced by crushed stone. These stones reach from the NEC to the next abandoned underpass where Union Street crosses beneath the former tracks. The northside of the former track area is Julian Place. South beyond the depot is a concrete plaza that leads down to Grand Street and the main entrance (and pedestrian underpass) to the NEC Station.
The station saw its last passenger service and was abandoned on August 6, 1978 (freight service had ended two years before when Conrail was created, taking over the CNJ) when the 'scoot' shuttle service was discontinued from Bayonne to Cranford. Mainline service to the station (originating at the still standing Communipaw Passenger Terminal where the State of Liberty/Ellis Island Ferries still depart from the same bearths as the connecting ferries to Manhattan) ended on May 1, 1967 when what are now called Raritan Valley Line trains (and its logo, the statue of liberty is derived from the CRJs) were rerouted from the CNJ to the Lehigh Line when the Aldene Connection was built. Trains began terminating at Newark's Penn Station as they do today. This eliminated the expensive ferry service riders required to enter the city.
All Photos taken on 1 February, 2012
Home
<Histoirc Railroad Stations<
Elizabeth CNJ Station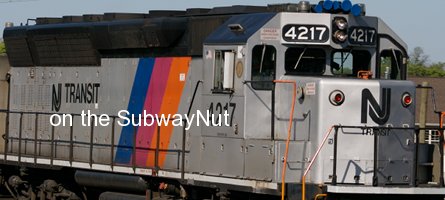 Last Updated: 22 August, 2012
Station Banner Image is adapted from a photo from the 1960s found in: Tim Doherty, Conrail (Railraod Color History), MBI, 2004
This website is not allifiated with New Jersey Transit, their official website is here
This Website is maintained and copyright © 2004-2012, Jeremiah Cox. This website is not affiliated with any transit provider. Please do not remote link images or copy them from this website without permission.