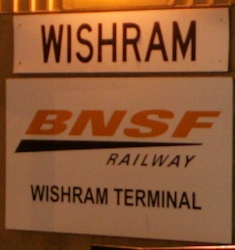 Wishram, WA is a station on the Empire Builder towards the upper end of the Columbia River George named for a tiny community of just 213 named for a Native American tribe of the same name. It is a railroad town because the Oregon Truck Rail Bridge crosses the river into Oregon just west of the station. The stop is located alongside a rail yard on the banks of the Columbia along a street fittingly named Railroad Avenue. The station platform has been rebuilt into ADA compliant standards and now looks like most of the others along the Empire Builder with a black fence, tactile warning strip, a wheelchair lift enclosure (when I was there for a brief fresh air stop the conductors at this unstaffed station were trying to figure out if they even had the keys to unlock it), a couple modern silver metal signs and a line of twin bulb decorative looking lampposts. There is a ramp and fence that can be open electrically along the platform in case anything large needs to be brought up onto the tracks and rail yard beyond. Alongside the platform is a small Amtrak parking lot and modern pre-fabricated metal building with BNSF Railway Wishram Terminal signs on it. This building is for BNSF, Amtrak passengers only have the platform to wait on.
Photos 1-15 taken on 19 October, 2011, 16 on 27 June, 2013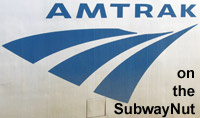 Last Updated: 13 July, 2011
This website is not affiliated with Amtrak, their official website is here, A source I have used countless times while compiling this section is Amtrak's Great American Stations
This Website is maintained and copyright © 2003-2019, Jeremiah Cox. Please do not remote link images or copy them from this website without permission.