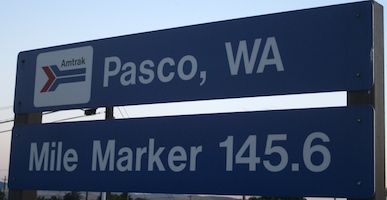 Pasco, WA is the one intermediate station (except for Vancouver, BC, still on the Cascades corridor) on the Portland section of the Empire Builder that is staffed complete with baggage services. It is also by far the busiest intermediate stop on this section serving the Tri-Cities of Kennewick, Pasco, and Richland, metropolitan area population 250,000. The station is also a locomotive crew change point, which makes it always a ten-minute fresh air/smoke break stop. The station is officially known as the Pasco Intermodal Train Station opening in 1998 with a modern but small station building beyond a parking lot. Here there are simple wooden benches for waiting, ticket counters for both Amtrak, proudly displaying the pointless arrow in multiple places, and Greyhound with an older logo as well. The only source of food is an automat type vending machine next to a microwave, a coke machine, and an instant coffee one. There are separate doors up to the platform (the only way to access it other than through locked gates), consisting separate entry and exit set of automatic doors and signage telling boarding passengers to form a line and remain inside depot (by the platform entry doors) until the train has arrived, and the conductors start boarding. There is even a rope outside of the entrance area the conductors remove to begin boarding. These doors lead out to a concrete ramp up slightly (with a fence dividing arriving and departing passengers) to the platform with a modern tactile warning strip, long enough for all four doors to platform, a wheelchair lift enclosure and Greyhound's bus bays that are right alongside it with a fence to separate them from the actual platform. There is both older pointless arrow signage, and newer metal ones but the lampposts are from 1998, not of the more modern vintage.
Photos 1-22 taken on 19 October, 2011, 23-55 on 27 June, 2013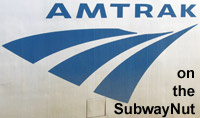 Last Updated: 8 November, 2011
This website is not affiliated with Amtrak, their official website is here, A source I have used countless times while compiling this section is Amtrak's Great American Stations
This Website is maintained and copyright © 2003-2019, Jeremiah Cox. Please do not remote link images or copy them from this website without permission.