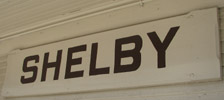 Shelby, Montana is a small town of 3,000 in Montana. An interesting fact about Shelby is just west of the station is the only place the Empire Builder goes under an Interstate Highway, I-15 in the entire state of Montana. It doesn't cross another Interstate Highway to the east until Grand Forks, North Dakota at the opposite end of the state (the Empire Bulider follows I-29 from Grand Forks south to Fargo), 738 miles away, and Spokane, Washington to the west, 404 miles away. This interstate highway example is one of many reasons why the Empire Builder is so important to the small high plains towns of Northern Montana.
The staffed Amtrak Station with baggage service is a locomotive crews only change point. This means that it is always a fresh air stop on the Empire Builder and trains stop here for at least 5 minutes. There is also a bit of recovery time in the timetable before Shelby so trains may be early allowing for a longer fresh air stop. The station is located inside a small rail yard (really just a series of sidings there four tracks in the station area), with a platform that basically begins (there is a bit of ballast first) at the grade crossing of Montana Avenue on the north side of the main line tracks. There is also a siding track between the platform that slowly veers around passing on the north side of the station house (that is between two tracks) At first this platform is just a concrete path with a line older grey lampposts that have pink bases. The platform eventually becomes a simple low-level concrete platform that requires stools with a yellow line (the first Transdorm Sleeper on my last eastbound Empire Bulider trip stopped just before the main portion of the platform begins). Next is a brown wheelchair lift enclosure plus a number of modern Amtrak Station signs, the Recovery Act accessibility funding did not rebuild the entire platform at Shelby like it did at Whitefish and other stations.
This is followed by a white single story station house. This wooden station house with a gabled roof is nondiscript and I can't find a year built. Along the east side of the depot is the main station entrance with a ramp and staircase down a few steps off the platform and across the siding track that winds its way around the opposite side of the station. It then leads to a mainly dirt/stone unpaved parking area with the path ending at two recently built paved ADA parking spaces (also built under the Recovery Act). This one main platform entrance has a sign on it that says "Only Amtrak Passengers and BNSF Employees Allowed" on Platform. First doors lead into the non-public BNSF/Amtrak crew offices. There is finally a door into the ticket office. This ticket office is a small, dark wood paneled room, when I went into take my pictures the friendly agent told me she had done some decorating by putting posters up. It has a bunch of Amtrak posters and some historical photographs (that are strangely too high up on the walls to see them, with the Amtrak information posters closer to eye level). It even has one of the new luggage carry-on size templates. A simple black preprinted poster that looks like a letter-felt board has the Empire Builder's schedule. There are a few lines of metal attached chairs (straight out of the 1960s) for waiting passengers and two ticket windows that have a wooden counter plexiglass but aren't part of a fully enclosed ticket office. A food vending machine is available for lower-priced snacks than Amtrak's food service. A door does lead down to some stairs streetside but the stairs simply end on the railroad ballast. Going back out to the platform is a large radio antenna before the platform eventually ends with a couple of final lampposts now just covering ballast. The overpass of Oilfield Avenue is just beyond the western end of these lampposts and the station.
Photos 1-8 taken on 16 July, 2006, 9-63 on 28 June, 2013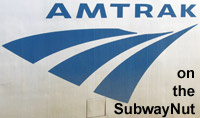 Last Updated: 19 August, 2013
This website is not affiliated with Amtrak, their official website is here, A source I have used countless times while compiling this section is Amtrak's Great American Stations
This Website is maintained and copyright © 2003-2019, Jeremiah Cox. Please do not remote link images or copy them from this website without permission.