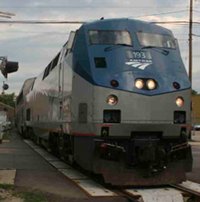 Amtrak's Pere Marquette began as a one-daily round-trip state-supported train by the State of Michigan on August 5, 1984. The train has pretty much remained this way ever since with a single trainset designed for Chicago daytrippers from Michigan, running westbound to Chicago from Grand Rapids in the morning and returning in the evening. During extremely busy travel days (such as the Wendesday before and Sunday after Thanksgiving) the same trainset has made a mid-day round-trip from Chicago to Holland. If track improvements can be made (including adding a junction in New Buffalo from the CSX line to the high-speed Amtrak own Michigan main line, the Pere Marquette currently runs on separate trackage from the other Michigan service trains all the way to Porter, Indiana) for the same trainset to make two round-trips per day all the way to Grand Rapids, the service could get two daily frequencies. Amtrak also offers connecting throughway bus service (operated as regularly scheduled Indian Trails frequencies) from Wolverine Service Trains in Kalamazoo.
Unlike most regional Midwest trains that use single-level Horizon cars, the Pere Marquette normally runs with 3 Superliner cars. During summers though Horizon cars may run on this route and in July 2016 the Pere Marquette consist was supplemented by Ocean View, Amtrak's only remaining dome car. Since the new Vernon J. Elhers Station in Grand Rapids opened on October 27, 2014 the train has run in a push-pull configuration with a P42 locomotive on one end an ex-F40 Cabbage car on the other end, or an additional P42 Locootive
The only other changes to Pere Marquette service in it's over 30 year history was the dropping of two intermediate stops (making the train run non-stop from Chicago to St. Joseph, Michigan for 89 of the routes 151 miles) in Hammond-Whiting on April 29, 2001 when Norfolk Southern requested Amtrak reduce service at this station because of its location on a busy freight line, and in New Buffalo on October 26, 2009 when the station was relocated to the parallel line used by the Wolverine and Blue Water services.