St. Joseph, Michigan is an Amtrak Station on the Pere Marquette located along Lake Michigan that has perhaps some of the best sunset views in the Amtrak system (perhaps some of the Amtrak stations along the Hudson River would give this station a run for it's money). The station is located at the bottom of a bluff where the lakeside touristy town center of St. Joseph is located. A short ways north of the station trains cross over the St. Joseph River and into Benton Harbor, St. Joseph's much more impoverished 'Twin City.' If the Pere Marquette schedule was different with the addition of a morning departure from Chicago and an evening return St. Joseph would make for an excellent day trip from Chicago with it's beaches and town center.
The Amtrak station is at located in the 1913 Pere Marquette Railroad Depot that was extensively renovated in 1988-1989 to house commercial tenants. Today the depot is an overly sprawling building primarily painted red and primarily housing the Silver Beach Pizza Restaurant (since 2005). Luckily Amtrak passengers do get a small waiting room with white walls, black attached plastic chair benches, Amtrak posters, an ATM and a Quik-Trak Machine. Restrooms are in an attached corridor and shared with the restaurant. It's unclear if the restrooms are left open for the morning Pere Marquette departure to Chicago. At each end of the building are LED displays welcoming passengers to the St. Joseph Amtrak Station. There are also large 'pointless arrow' Amtrak logos next to the logo of the pizza restaurant announcing the station. A ribbon of LED lights pluses changing color at night at the bottom of the station's gabled roof line.
For train passengers is an extremely low-level concrete platform directly along the depot. It has just a simple painted white line safety. It is along a single track that begins at the grade-crossing of Broad Street (that becomes a step street with a pedestrian staircase going up the bluff into downtown St. Joseph) and runs south. The platform is narrow compounded by the fact the restaurant uses portions of the platform for it's own uses. There is a bike rack (designed for restaurant patrons) and a few locks along the platform attached to the building that have signs saying "Lock Your Stuff, Bikes, Strollers, Kids just kidding, ask hostess for combination." Another bizarre feature is a former phone booth (lacking a phone) that says Pizza Booth and an image of a super hero (with a pizza on his chest) and lacking a head (for photo posing). Amtrak customers do have two modern silver signs that say St. Joseph, MI (one has a coke machine under it) with the door into the train passenger waiting area (with a pointless arrow Amtrak logo and entrance beneath it) in between in the middle of the platform. There are also a few wooden benches on the platform that seem more designed for diners waiting for tables than train passengers.
The platform ends with a wheelchair lift enclosure along some lined designated parking spaces for motorcycles with signs on them that say "Diners above, do not rev engines." South of the station (with cars passing under an elevated enclosed extension of the restaurant) is a parking lot full of signs that say Warning: Parking only while dining at Silver Beach Pizza or while on Amtrak. We will tow. Other signs at the parking lot entrance say No Beach Parking, No Carousel Parking (there is one across the street from the station), No Fountain Parking. Restaurant and Amtrak parking only. On the side of the building is a yellow sign that seems to continuously say Lot Full. Amtrak's website says there are 5 long-term parking spaces (although the parking lot is definitely bigger than this).
Photos 1-36 taken on 9 October, 2017, 37: 12 November, 2016, 38-64: 3 June, 2017; all on visits by automobile;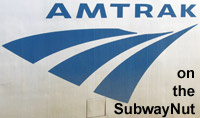 Last Updated: 29 January, 2017
This website is not affiliated with Amtrak, their official website is here, A source I have used countless times while compiling this section is Amtrak's Great American Stations
This Website is maintained and copyright © 2003-2019, Jeremiah Cox. Please do not remote link images or copy them from this website without permission.