Amtrak began service to Provo, Utah when the combined California Zephyr/Pioneer/Desert Wind (these trains were combined and divided in Salt Lake City) were rerouted from the Overland Route via Wyoming to the Rio Grande Route through the Moffat Tunnel in 1983. The city has received continuous train service because before Amtrak it was served by the last privately operated intercity passenger train in the nation, the Rio Grande Zephyr, that ran triweekly from Salt Lake City to Denver until it was dissolved and Amtrak took over operations of the route. The Pioneer was rerouted back via Wyoming in 1992 (the combining relocated to Denver) and both this train and the Dersert Wind were fully discontinued in 1997. This has left Provo with the same daily train service but to just one western destination (The San Francisco Bay Area) instead of three. The FrontRunner South Commuter Rail Line began operations in 2012 at a new FrontRunner Station a block south using its own, newly built tracks parallel to the Union Pacific tracks and just south (west) of the UP tracks used by Amtrak. A low fence divides the two railroads at the Amtrak station.
The station was a decrepit AmShack (with just a bus shelter that leaked) until 2002 when the commuter with the help of Amtrak rebuilt it into a modern shelter that is a great example of how inviting a station can be that lacks a genuine station house. The platform is located alongside W 600 S across from the end of S 300 W St. The grade crossing of University Avenue (with the FrontRunner Station beyond it) is just west of the Amtrak platform. The station has a decent sized shelter structure (with a few parking spaces in front of it). The middle shelter has white beams (with brick bases) holding up a gabled roof with a decorative, small steeple on top. The top of this steeple has a with a weather vane with a steam engine on it. Beneath the canopy are a few benches nearly fully enclosed by plexiglass windscreens. On each side of the main waiting area is a smaller canopy that cover two each without windscreens. Just beyond this structure is a simple side platform for 4 cars with a tactile warning strip and a more recently installed, brown wheelchair lift enclosure. Signage at the station is unique. Two large white signs with black text say Provo Utah: Elevation: 4,515, Population: 105,166. There are also two green, small information panels that have Welcome To Provo written on the top of them. These contain minimal Amtrak information (one has a non standard sign to call for reservations) but old, outdated (The FrontRunner station isn't mentioned) local tourism and transportation information.
All Photos taken on 4 February, 2013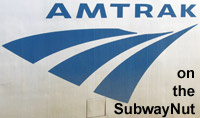 Last Updated: 3 June, 2013
This website is not affiliated with Amtrak, their official website is here, A source I have used countless times while compiling this section is Amtrak's Great American Stations
This Website is maintained and copyright © 2003-2019, Jeremiah Cox. Please do not remote link images or copy them from this website without permission.