Lapeer is the first stop after leaving Port Huron on the Blue Water. The historic wooden station house was built in 1900 for the Grand Truck Western Railroad; was renovated in 1990 and restored in 2004. The station has received service in the Amtrak era since the Blue Water entered service in 1974. The station has received service since then, although the one daily train between 1982 and 2004 was extended to Toronto and named the International (Limited) and co-operated with VIA Rail Canada. Trains currently stop in the station early in the morning going to Chicago returning late in the evening (allowing day trips to Chicago, and allowing connections to all Amtrak routes), and this has been the schedule for both the current iteration and the 1974 to 1982 iteration of the Blue Water. The International operated as an all-day train to and from Toronto offering few connections in Chicago to other Amtrak routes, stopping at Lapeer in the early afternoon in both directions.
The station itself consists of a single platform side platform, on the northside of a two-track line, that can accommodate just over two cars. The platform has a black fence, modern Lapeer Amtrak signs and a wheelchair lift enclosure at the western end of the platform. Behind the middle of the platform is the historic Lapeer station house. It is a single-story wooden structure painted a very light green color with forest green trim. On the station building are a number of black on white Lapeer signs, including one facing the platform that says Chicago 275 miles, and Toronto 227 miles. Inside the building is a wooden waiting area with a bench in one portion of the station house, and another area with tables and chairs used as a community space run by the City of Lapeer, and available for rental as a meeting room. The waiting area has signs on the door that it is open for 30 minutes within the departure time of the train. Outside the door to the station is an old-fashioned chalkboard Grand Truck Train Bulletin that is updated with the approximate departure time for Train 364 and Train 365.
The station house leads back to a small parking lot this runs from the grade-crossing of Court Street (with a welcome sign that still has a pointless arrow) before curving north to parallel Howard Street. Along the northside of the parking lot are three historic cabooses. One is Detroit, Toledo, Ironton Railroad #120, New York Central #21755 and Grand Trunk Western #75007.
Photos 1-42: July 7, 2019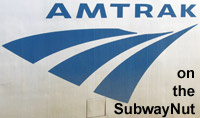 Last Updated: 17 October, 2019
This website is not affiliated with Amtrak, their official website is here, A source I have used countless times while compiling this section is Amtrak's Great American Stations
This Website is maintained and copyright © 2003-2019, Jeremiah Cox. Please do not remote link images or copy them from this website without permission.