The current Flint, MI Amtrak station is an intermodal AmStation that opened on the campus of the Flint Mass Transportation Authority in 1989. Trains previously stopped at 120 East 14th Street closer to downtown Flint. The station is at the location with the parking lots shared with the main bus depot and maintenance facility of the Mass Transportation Authority along with their separate corporate headquarters building. All persons entering the Flint Amtrak station must use a driveway entrance (that does have a sidewalk) from Dort Highway and pass through a guard booth.
The Intermodal Station itself is a brown standard AmStation with an overhanging flat roof and small windows that allow natural light in. Inside is a waiting area that has more modern silver seating, a set of restrooms that include water fountains that were covered-up with "Please do Not Drink from the fountains signs." When I visited in 2017, and two ticket windows on opposite sides of the larger waiting room. One ticket window is for Amtrak, the other for Indian Trails buses. Indian Trails buses provide throughway bus connections (ticketed by Amtrak) to two other daily Wolverine trains at either Battle Creek or Kalamazoo, depending upon the departure.
Passengers boarding the once a day Blue Water head outside the station to a fence with a wide gate. In front of this gate is an old pointless arrow sign that says Flint Mich and originally had text for the direction of travel towards Chicago or Toronto. When the International was discontinued and replaced with the Blue Water, with service pushed back to terminate in Port Huron, Port Huron lettering replaced Toronto but the ghost of the former letters on the sign for Toronto are still visible. Beyond this gate is a 4 car side platform on the south side of a two-track line, short level-crossings lead out from this platform to meet up at three different doors so trains can also stop on the second track.
Photos 1-19: June 30, 2019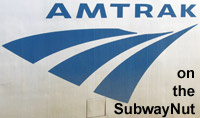 Last Updated: 20 October, 2019
This website is not affiliated with Amtrak, their official website is here, A source I have used countless times while compiling this section is Amtrak's Great American Stations
This Website is maintained and copyright © 2003-2019, Jeremiah Cox. Please do not remote link images or copy them from this website without permission.