I've been working on a variety of website projects over the past few months, none of which have ended in an update. Now I have a small LA Metro Green Line transit update from a trip we took to Disneyland in late August.
On our way to Disneyland we were scheduled to fly South Bend to LAX, via Detroit. I was planning to have us take the Green Line to Norwalk to an Uber but our original South Bend to Detroit flight was delayed and around Noon the Friday we were flying out I was able to rebook us on a SBN-DTW-SLC-SNA itinerary that did add an extra stop and a couple extra hours of travel time but meant we didn't need to deal with LAX which felt like a good trade-off.
On the way home, a friend of Louise's had come up from San Diego to go to Disneyland with us and had her car. She offered to drive to LAX, which we said wouldn't be fully necessary, but a ride to Norwalk at the end of the Green Line, removing the need for an uber, or an OCTA-Metrolink-City of Norwalk Transit System Bus to get to the Green Line, made the day much more streamlined.
As we drove north on the 5, we found ourselves in the wrong lane to get off at Imperial Highway to get to the Norwalk Green Line station. Instead we were in the lane to get on the 105 West that the Green Line runs in the median of, so I redirected us to the Lakewood–(14 Photos added) and we got off there. Put some money including some extra for future Dinseyland trips (we've gotten annual passes) on our TAP Cards, and took a not so smelly elevator down to the platform.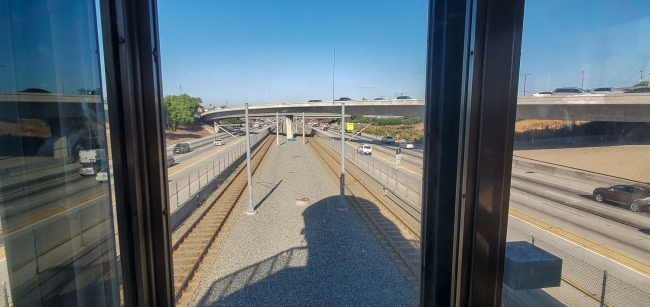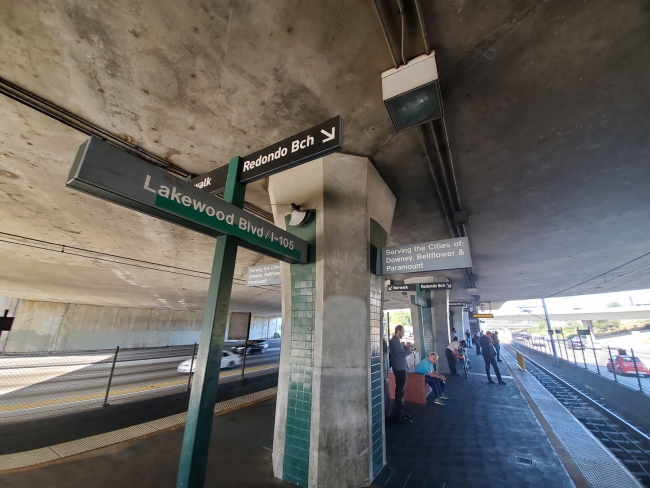 I then got to photograph a train of new P865s for the first time heading the other way to Norwalk.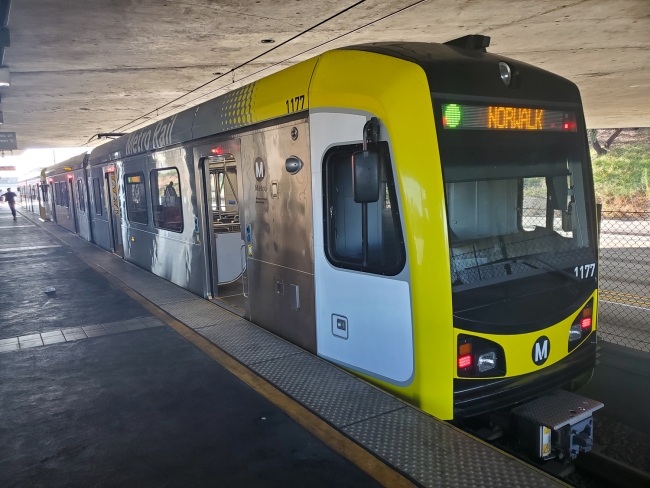 Our train soon arrived, and it was an older P2000 which left me disappointed.
It was a nice quick ride down the median of the 105/Century Freeway to the Aviation/LAX Station were we got off at 9:20am exactly 2 hours before our flight. There we took the elevator down to the plaza and followed the crowd of a mixture of travelers and airline employees. Including a Cathay Pacific employee who was kindly helping a disoriented elderly traveler with the shuttle bus and calling her "Auntie". We got on a very crowded Shuttle bus for the short ride to LAX, getting off at Terminal 2, the first of 2 Delta terminals. Our flight was departing from Terminal 3 which required an uncovered walk outside along the departures roadway, we could have stayed on the bus. We got there, cleared security, and had a nice breakfast in the SkyClub.
We had a longer layover in Minneapolis and Louise was craving a burger instead of fancy lounge food. I took a ride round-trip on the C Concourse People Mover Tram and one of these rides included an employee with a floorboard open, greasing the cable that moves the tram.
Enjoy! I have a bunch of larger updates in the works, so stay tuned to this blog.