This post is part one of East Chicago and Metra Rock Island Day.
This past summer, on June 10, 2018 to be exact. I found myself with a weekend alone in South Bend while Louise was in Poland for a conference. I was hoping to join her in Europe but I'm still too new in my job and wasn't quite able to horde enough vacation time to be able to. The plan originally for the weekend was to go on a bike adventure into Chicago to tackle some more Metra stations as a day trip on Saturday (when Metra has more frequent service) and then spend Sunday at home doing my weekend audlting. Friday night, my friend Adam texted me to say he would be driving through South Bend on his way to Chicago and if he could stop for dinner Saturday night, this meant I flipped my weekend around and decided to stay in South Bend on Saturday and go adventuring on Sunday. After a nice dinner on Saturday evening with Adam we decided that we might as well meet up Sunday late afternoon as well, before I return to South Bend after my Metra adventure.
Sunday morning arrives with dreary-looking weather and a forecast for on and off thunderstorms. I decide I don't want to spend the day riding around on my bike wet and that a benefit of not bringing my bike is being able to take the faster Lake Shore Limited trip home, giving me a few more hours in Chicago (there is a 9:15pm CT South Shore Line train but that gets into South Bend at 12:46am ET, painfully late, compared to the earlier midnight arrival of the Lake Shore Limited that seems less painful). The next question though is the first mile/last mile how to get to the train station since the South Bend Amtrak Station, and South Shore Line Station are at different places? I decide on what I feel is an indigenous solution with access to Louise's car. There no LimeBikes by the Amtrak station but quite a few by my apartment so after trying one LimeBike that I can't seem to get to unlock, at 8:24 I unlock a LimeBike and dump it in the back of the car.
I drive to the Amtrak Station and park Louise's car, before getting on the LimeBike for a peddling quickly ride to the airport, nervous I'm not going to make the train. I lock the LimeBike up at 8:57 and board the 9:01am Express train bound for Chicago. One of my nearer term goals is to finally finish the South Shore Line, and the Saturday morning schedule means I can easily make a 52 minute stop at East Chicago. I purchase my $11.00 ticket using the app. The conductor soon comes, I tap my iPhone screen and get a little white seat check that has EC written in pen on it. The South Shore Line assumes everyone is riding into Chicago and on westbound trains conductors use a pen to write down your destination, if you're getting off sooner.
It's an uneventful, express South Shore Line ride, with a quick stop at the flag stop of Hudson Lake, the train having to briefly pause to activate the signal near 11th Street in Michigan City before making it's one intermediate stop at Beverly Shores. I then get off at East Chicago–(49 Photos) at 9:27 CT. We arrive a few minutes early, just as the first Eastbound train of the day to South Bend pulls into the station. I get some photos of the trains passing and confuse some crew members not wanting to get on either train. Everyone is friendly to my picture taking.
I then slowly leave the platform, through the platforms only exit through a station house shared with the one NICTD Police station to get some photos of the train embankment from the parking lot.
I first walk to the South Shore Overflow Parking lot under the train line and toll road, shared with Knights of Columbus. I also get a nice view of a South Shore Freight billboard with a locomotive that has lights!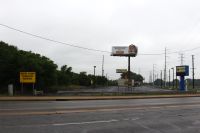 I walk back towards the main parking lot hoping to circle it and get photos of the signage at the other end of the parking lot, but soon I see a policeman leave the police station (in a wing of the passenger) and get into a police car, I keep taking pictures but soon notice the police car driving through the empty rows of the parking lot towards me.
He asks we what I'm doing "Taking pictures of random cars?" I explain, "I'm not, just have a hobby taking pictures of railroad stations and am trying to get some wide-angle shots of the station off in the distance." He asks me for ID which I reluctantly give him, and doesn't say I can't take pictures at South Shore Line stations but he just wanted to check on my "suspicious" activity. Overall it's one of my better website encounters with the police (which have happened over the years, although I don't remember the last time, the most memorable was once on BART when a station agent wasn't happy I was taking pictures, but a BART cop was extremely friendly and supportive of my hobby, ending our conversation with "Time for me to go down and try and calm down the station agent").
I do decide to end my parking lot walk slightly short and return to the station. There I get some headhouse photos and buy my next ticket to 57th Street (as the South Shore Line calls it) from the TVM for $6.25, this stopover has cost me $4.75  South Shore fares definitely favor those traveling longer distances, with a high 'price to board and ride one stop fee'!
I return to the platform, sit on a bench and relax, before getting some photos of my train entering at 10:17 CT.
I board this train, which feels less crowded than the express train an hour ago, get my ticket collected, and make two intermediate stops at Hammond and then Hegewisch, in Indiana and then Chicago, Illinois. We then slowly curve onto the Metra Electric Line and run express to what the South Shore Line simply calls 57th Street–(51 Photos). I get photos of my South Shore Line train departing and walk towards the 55th Street exit down a path between the tracks.
I don't currently have an Active Ventra Card (long story) and want to take buses over to the Rock Island Line which doing stations on is my goal for the day. The Ventra website says the Walgreens on 55th Street sells Ventra cards so I head over there. I get there and there signs about Ventra cards in the store windows but the staff rudely tells me "Sorry we're sold out of Ventra cards we can't sell you one." I walk by a historic building originally used by the Chicago Cable Car Company.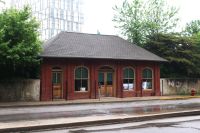 I then return to get the 56th Street and then 57th Street entrances of the Metra Electric Station, thinking about my next steps.
I then remember that the Museum of Science and Industry at least used to have CTA Farecard machines that I assume have been replaced by Ventra machines. I head the couple of blocks over there are enter by the bus loop, no sign of the machines outside the bus loop so I decide to head down the couple of flights to the main entrance lobby through the underground parking garage. There I find what I need a single Ventra Machine!
It unfortunately can only sell Ventra tickets, not new Ventra cards, so I decide just to buy a Ventra Day Pass for $10 and not think about my taps on and off of the CTA.
After completing my slight detour to get a Ventra card I walk south to the other Metra Electric goal of the day 59th Street-University of Chicago–(18 Photos). As I head up to the first platform (each has just one entrance) of the simple station, I notice a Metra police car sitting in the bushes alongside the freight ROW, as much as I might have enjoyed watching a police car drive down the train tracks thinking I'm suspicious I don't do a full photo essay of the simple platforms and focus on the unique entrance areas and single staircase up to each platform.
I then head to Stony Island Avenue where I used my Ventra ticket, to board a Route 15 bus that's just arriving for a very short ride to 63rd Street. There I board a Route 63 bus that I board and wait for a few minutes since I'm at the routes terminus for a longer ride down 63rd Street, under the end of the East 63rd branch of the Green Line over to the Dan Ryan Expressway.
I tap onto the Red line at 63rd–(17 Photos) where at Elevator has been installed since my last visit to the station in 2011.
From 63rd, I take a Southbound Red Line train in 4 minutes two stops to 87th–(15 Photos), there I slowly exit the station, photograph some artwork that isn't new, notice a new elevator shaft and wait 6 minutes for the 87 bus to get to my first Rock Island Line Metra Station.
Continue Reading: Busing and Lime eBiking the Beverly Hills Area Rock Island Line Stations.