I normally don't bother doing weekend trips, service is less frequent and waiting rooms are closed. The one exception is when weekend service differs from weekday service. I had never ridden anywhere on the Gladstone Branch before, had a friend who could only do the weekend trip and with the current post-Sandy timetables on the Morris & Essex Lines (from the fact only diesel trains can go into Hoboken) meaning that the Gladstone Branch is receiving more service on weekends, hourly than weekdays (bi-hourly, normally its hourly). I am also curious to see if the hourly weekend Gladstone Branch shuttle between Summit and Gladstone is using the normal Arrow-III MU cars or is push-pull with the dual-mode ALP-45DP locomotives. I also want to witness the transfers at Hoboken between the Bay Street-Hoboken train and main MidTOWN DIRECT train. As this TripLog says I got some very interesting operations from the dual-mode ALP-45DPs.
I leave the house at 10am, to meet my one old railfan friend Robert who's going on this trip with me at the 9th Street PATH station at 11. The A train would be easier but I want to try and find that R62 2 train that I believe is running on the 2 this weekend because of track work. I head down the hill to the 1 train and remember that it is indeed doing trackwork in the Bronx with every other train short-turning at 137th Street. The next train display says 11 minutes and 12 minutes for each direction. I get on an elevator with someone who clearly wasn't pushing the buttons. I finally get down to the platform at 10:11. At 10:18 an uptown 1 train comes in as the narrow construction restricted platform becomes more quite crowded. I head to the front for the photo possibility at 96th st. My 1 train comes in at 10:23, the countdown clock wasn't lying.
We get to 103rd and a R142 is in the pocket track so the next downtown 2 train will be that train. At 96th Street I see a R62 terminating on the uptown platform and I crossover to get a few photos (I'm planning a full separate blog post about this with all my subway photo uploads since last weekend I did more of it).
I take the next R142 2 train and get off at 14th street at 11:02, and walk over to 9th Street. I meet my friend and at 11:10 I'm tapping onto path, almost missing it because it couldn't read my SmartLink card in the back of my wallet. We get on very crowded PATH train that stinks off booze. It's Hoboken's notorious Lepre-Con. (The parade that used to accompany it was canceled last year from too much drunkenness). We come to a stop in the tunnel waiting to enter Hoboken.
We arrive in Hoboken for the end-change at 11:20 to most of the train getting off. We wait for a 33rd st train to leave. Another 33rd st train enters, the doors close at 11:24.
We get to Journal Square–2 Photos at 11:32, our Newark train arrives at 11:38. I get a few photos of the HOB/33rd multi-color destination signs on a train going the other direction. I'll need to take another weekend PATH trip to get some more photos of these unique signs.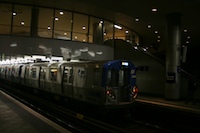 At 11:45 we stop in the Meadowlands beyond the freight yards. They announce were single tracking. Finally at 11:49 a WTC train passes and we head down our normal track into Newark-Penn Station. We arrive to a crowded Platform H at Newark-(2 Photos) at 11:55.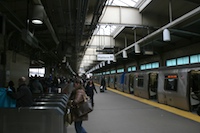 We make our way down the ramp to the main track level-(7 photos), including the closed turnstiles for the usual entrance platforms.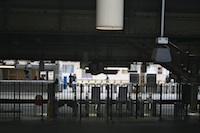 We continued down to the main exit level-(4 photos)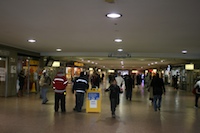 We end up walking along the Newark City subway downtown branch getting a few photos of a passing train with the unique weekends Grove St via Penn destination signs. (This section is on the rebuilding list). As we approach Broad Street we see a Midtown Direct train leaving the station, being pushed by of all things a dual-mode ALP-45DP, pantograph up heading to New York-Penn Station, that surprises us, didn't realize the dual modes were certified to run through the North River Tunnels. I had heard about a feud between Amtrak and NJ Transit about the locomotives certification into Penn Station. I later find out that scheduled catenary outages on the Morristown Line have made today the first day of regular dual-mode operations into Penn Station with the ALP-45DPs. We buy our tickets for Gladstone, $9 one-way to ride 34 miles is 26¢ per mile, nothing compared to most of my Amtrak trips but cheeper than a lot of extremely expensive NJ Transit tickets, Newark to Metropark is 43¢ per mile.
At 12:30 a Bay Street-bound train comes in from Hoboken pulled by a diesel PL42AC. Our MidTown Direct Train heading to Dover comes in at 12:33 with MLVs pushed by Dual-Mode ALP-45DP #4534, pantograph raised. We notice a sticker that it is the 100th ALP-Locomotive manufactured in Kassel Germany, as we get a photo of it in the station (pantograph up).
We leave and play back and back with the Bay Street train. The cars are crowded since two have been cut out. It's a local ride through the Oranges by the historic stations on the three track wide viaduct although we skip Highland Station and I notice one of the exits at the end of Mountain Station is closed because of storm damage. We stop at 12:51 in South Orange and a NJT diesel pushing Metro-North Comet Vs passes through the station as we arrive. Leaving Short Hills we have a nice view of the Verrizano bridge and NYC skyline off in the distance. We are that high up.
At 1:06 we arrive in Summit and get photos of our shuttle train to Gladstone powered by a dual-mode ALP-45DP #4502 in electric mode, pantograph up. Our MidTown Direct train leaves the pantograph now down we both wonder why. (I later learn that its for repair work on the catenary system, this the first day of regular operations into Penn Station)! Those dual-mode locomotives are extremely versatile allowing one seat rides to continue while repair work is done. I wonder when dual-modes will enter regular operations for one seat rides to Bay Head, Hackettstown and on the Raritan Valley Line.
We get on our Shuttle train of Comets V and Ivs and get a "Check Marker Lights" announcement before we leave at 1:14. We sit in the rear Comet V Cab Car, one of two open cars for the larger windows that seems much less crowded then the Comet IV with smaller windows that most passengers seem to have boarded. It's a nice change from crowded trains to an empty ride on a little branch line. The conductor collects our tickets and we wrong-rail on the Wall Track before curving off the main Morristown Line at 1:15 onto the Gladstone Branch and entering new trackage for me.
1:18 arrive in New Providence, it has a single side platform with an underpass plus a tiny waiting room. We continue down the single track and I notice the neat wooden supports that hold up the catenary system, at MP28 we go over the first grade crossing of the day. The supports seem to alternate, metal, wood, metal wood as we go through trees and pass houses.
At 1:22 we arrive in Murray Hill on the Siding Track, passengers have to cross the mainline track to get to the single platform with the nice small station house. We pull up a bit farther onto the siding for a timed meet. The conductor announces "We'll be waiting for a minute." I open my phone and get DepartureVision to see how late the next Summit-bound Scoot train is, it's 14 minutes late. I also notice that the track locations at Murray Hill list 'Single' or 'Siding.' At 1:40 the Summit-bound train finally passes. It's a Push-Pull and has a few Metro-North Comets in the trainset. We finally leave at 1:42 and speed up through houses and trees.
We pass School Buses and sports fields plus a lumber yard as we cross Plainfield Avenue into Berkeley Heights stopping at 1:46, it has an unused (judging from rust) electrified siding, I wonder why they simply couldn't have rescheduled our meet with the late train there. We go under a road on a concrete bridge along more marshland.
1:49 — Gillette, just a bus shelter and parking lot, some signs are missing from the platform. We go along what looks like a swamp plus water. There are quite a few fallen trees from Superstorm Sandy along the railroad line. Houses are off in the distance.
1:51 — Sterling, has another siding with little boards for boarding, we stop on the main track with a simple cinderblock shelter. We lose lights briefly (entering diesel mode) and and the single track continues as we pass houses.
1:55 — Millington, single track (room for a second), nice station house now a cafe. We cross over the Passaic River on a high bridge and continue west by what looks like a landfill for something.
1:58 — Lyons, 11 minutes late, has a mini-high platform that our one train door doesn't open at. There is a large park & ride lot opposite the tracks with pedestrian grade crossings at each end of the station's platform. The depot has peeling paint and contains the Gladstone Branch's only ticket office open on weekdays until 1:05pm, I guess I can get that interior. The entrance to the Park & Ride lot has a decorative arch.
2:01 — Basking Ridge has a more modern station house, with a cafe and lobby hours from 5:00am to 7:30pm. It has room for a siding. We leave and go over I-287, the closest thing New York City has to a beltway that runs from Edison, NJ to Rye, NY.
2:05 — we get to Bernardsville, and inch along onto the siding there to make our station stop along the one tiny concrete walkway between the far track and the actual platform. The train is late and doesn't normally use this siding. There is a station house here in use as a deli. The platform is crowded with passengers waiting from the inbound train. Much to my surprise 3 passengers flash their monthly passes to the conductor and get on.
We leave Bernardsville and the next Summit-bound soon passes us as we block a grade crossing. We finally seem to leave wooded suburbs and enter the wealthy horse farm country that this portion of the line serves. There still plenty of trees but the view has changed from houses to a few cows and quite lot of horses. The roads are made of dirt, excellent for riding.
2:16 — Far Hills with a nice old station house that is a coffee shop. Then there is a passing siding just after the station where we would have met the next Summit-bound train had we been on time.
2:21 — Peapack with a nice old station house that's boarded up.
We go over an unarmed narrow road crossing and get to the East Gladstone siding. This is where the small Gladstone yard is. Inside are two push-pull trains with electric only ALP-46s Locomotives on them spending their weekends. There is also an Arrow-III train in yard sitting unused since all Hoboken service is only under diesel power right now. Our train slowly enters the Gladstone station pulling up to the bumper blocks next to another Arrow-III train. It has a very odd half-high level half low-level layout. We arrive at 2:25, 17 minutes late. The one door at the back of the train opens to the short, high-level platform for two cars while any other doors would open to the low-level platform.
I get my photo essay of the station including the two trains, ALP-45DP Locomotive, pantograph up and the usual Arrow-III trains at the end of the station platform. We then start walking south out of town the mile to Peapeck. This station actually has a gravel parking lot but the station house is boarded up. I get my photo essay of the station as we photograph the same trainset we arrived on stop at the station on its next trip back to Summit for no passengers getting at 2:57. The next Gladstone-bound train comes through 6 minutes late at 3:10, it barely pauses in the station before leaving. The place to take photos here is at the grade crossing opposite platform so I can't say the conductor didn't look out but no doors were opened.
We walk back out to Main Street and start heading south without a sidewalk for the walk through rolling hills and pastoral spread out terrain to Far Hills, a 2.3 mile walk. Although the road lacks a sidewalk and a real shoulder, the speed limit is 25mph and cars are good about giving us room. It's much different than most of my station to station walks through the suburbs or industry. We pass Natirar Park (Raritan in reverse, how fitting since I just uploaded a bunch of the Raritan Valley Line). The Gladstone Branch crosses beneath us on a neat underpass just before it goes over a clearly modern or recently refurbished bridge where the ties are made of modern concrete between areas of wooden ties.
We take the back way into the small town center of Far Hills (not to be confused with Short Hills another stop on the Morris & Essex Lines just east of Summit) along Railroad Avenue and climb up a tiny grassy embankment to the end of the station parking lot. The parking lot extends along a siding here that has a neat freight house I photograph. The platform has just one track and is just after the siding. This means that if the Gladstone-bound train is close enough to on time this is where they should meet and we can get photos of the meet (unfortunately just the cab cars) just beyond the station platform. The Butler's Pantry Cafe that occupies the station house closes at 3:00 on Saturday so I can't go inside, buy a snack for the train ride home and perhaps discretely snap an interior photo. Guess I'll have to come back. My original plan was to take the Bay Street Shuttle from Hoboken. The ridiculousness inconsistency of NJT fares means that its only $1.75 more for a ticket to Hoboken instead of Newark-Broad, the cheapest difference of any station. We decide with the St. Patty's Party festivities to stay away from Hoboken and get off and walk from Broad Street again. (The ticket to Penn would be $14.25/$9 such a huge difference, its cheeper to buy a seperate $5 Broad Street to Penn Station ticket).
I get a quick photo essay of the 1914 depot and at 4:03 we see the inbound train pulling into the siding besides the freight house and turn off its running front lights. The Gladstone-bound train comes in at 4:00, 7 minutes late. It drops off some passengers, leaves and I get photos of the two cab cars passing on the siding. Our train turns its running lights on, and enters the station at 4:04 it has the Metro-North Comets in the middle of the consist and I get a quick photo of them before hopping aboard. We end up leaving 5 minutes late.
At 4:04 we leave Far Hills and go down the long 4 and a half mile stretch between the trees and pass the paddocks and meadows of horse country. I keep enjoying the wooden pantograph poles.
At 4:14 we make our next stop of Bernardsville on the regular platform and arrival is much smoother without the tiny concrete crossing ot line up with the single door. We speed over I-287 and into Basking Ridge where a group of lound passengers boards. Unfortunately the conductor has opened up a measly single car of the 4 car set that gets slightly crowded and there is no new car to move to for a quieter ride. The train has now entered more suburbs and left horse country. I don't take detailed notes of each station stop as the ride becomes almost a routine of we stop in the station, the one conductor comes through to punch (everyone is tranferring) the tickets and give seat checks to the boarding passengers and then I hear the clang of the bar in the vestibule as he goes back into the cab car before the next stop. He (or the automated voice) doesn't even bother to announce the stops. The number of houses along the branch line slowly become more numerous.
At 4:34 we meet the next Gladstone-bound train waiting on the siding for us at Murray Hill which we enter on the main track. There is a father and son who have boarded and the kid has a child's ticket that the conductor doesn't collect informing the dad of the fact that kids 11 and under travel for free on NJT on weekends with their family fare.
We get to an already crowded platform at Summit at 4:43, after our connection should have departed at 4:42. I get a few photos of the Metro-North Comets and run up towards the front of the platform four the same ALP45DP #4534 with the plaque on it for the 100th ALP delivered with the same set of MLV cars still in diesel mode. We board a train that feels very different from our shuttle train its quite crowded and the conductor announces to walk to the back of the train for seats.
We make the same station stops along the Lackawanna Main line as our trip out:
4:49 — Short Hills
4:52 — Millburn the conductors sensibly only open the rear of the train (I think there rules about not halving enough conductors at the low-level stations, not that the platforms are too short).
4:56 — Maplewood — all except the first two cars as a single level train passes us, the platform is crowded. The conductor finally comes to collect our tickets and issues seat checks (NJT is brutal about conductors, you rarely fully get to the next stop before they collect).
5:00 — South Orange for 50 people, I think this branch could use half-hourly service at peak times on weekends.
5:03 — Mountain Station, 1 passenger, no wonder the station only gets service every 2 hours.
5:06 — the one stop we skip for the day, Highland Avenue.
5:11 &mdsah; Brick Church with all the boarded up waiting rooms along the platform
5:13 — Esast Orange
We get to Newark-Broad Street on the middle track 3 to the pantograph already raised, the diesel from Montcliar already there on track 1 normally used for outbound trains. No train has stopped on the wall track that normally Hoboken or New York-bound trains stop at. This is how they handle crossplatform transfers at Newark-Broad Street, don't have the two train directions in the station at the same time.
We decide to walk to Harrison-(14 Photos) this time in the twilight where trains are wrong-railing still. I get some photos of the closed entrance and the recently expanded plaza at the entrance to the normal Newark-bound platform that leads into a large parking garage plus bike racks with messages of "PATH supports the environment." A Newark-bound train passes, goes to the Newark terminal before coming back for us. PATHVision claims that trains are scheduled to arrive in both directions at the same time. I photograph this train entering, wrong-railing, dusk as fallen and its a terrible almost artsy picture.
We take PATH to World Trade Center where I notice that the 'Saetta Iridescente' — Iridescent Thunderbolt has been removed but the plaque for it is still there. We also find a sign directed at construction workers (who go through the PATH station to get to work) that there in a fare paid area and must leave fare control and re-enter before taking PATH anywhere.
We then head over to the 2 train to try and find the R62As running on it. We find them immediately at Park Place, have dinner and eventually I have an uneventful ride home. I'm happy to get the Gladstone branch off my list and can't wait to get more of its little low-level historic stations with neat station houses. The bonus of also getting ALP-45DPs on Midtown Direct Trains because of the catenary work was an extremely added bonus. I'm also happy to get a ride on the branch on the Comets that have nicer windows than the Arrows that have a habit of being over reflective from their age. My photos of that branch won't be complete until they restore the catenary in Hoboken and I can get service under normal operations!