Hackettstown

Mount Olive
Hackettstown is the terminus of diesel service on both the Montclair-Boonton Lines and Morris & Essex Lines, and opened on October 31, 1994 when service was extended 8 miles west from Netcog (with an intermediate stop in Mount Olive), along the Norfolk Sothern's Western Secondary. It is the only active railroad station in Warren County. The station is simple, consisting of a single low-level side platform that can accommodate 3 cars. At the western end of the platform is a ramp up to a wooden mini-high platform with a bridge plate on it for wheelchair accessibility (not up to modern ADA standards). This mini-high platform is exposed to the elements but does have a bench. The platform has a single red canopy structure that covers about a train car length; and includes a small waiting shelter with four brick walls, and a few windows. Outside there is a single TVM. The platform is at the northern corner of 103 space parking lot, with free parking for NJT commuters. This parking lot has entrances from Valentine Street parallel to the tracks, and from Beatty Street that is at the southern end of the parking lot. The train locomotives stop well short of Betty Street (with the platform along the northern corner of the parking lot) to avoid the crossing gates going down while trains relay in the station between trips since the terminus has no yard or sidings.
The stop receives limited service during weekdays only, consisting of 7 trains in each direction per day, all running to and from Hoboken, with passengers able to connect in Dover, Denville, or Newark Broad Street for MidTOWN DIRECT electric trains to and from New York-Penn Station. All trains on the line are shown in both in the Montclair-Boonton Line and Morris & Essex (Morristown Line plus the Gladstone Branch) timetables, although the majority of trains (5 to Hoboken, and 4 to Hackettstown) operate via the Morristown Line, with the rest as extensions of Montclair-Boonton Line trains that only run west of Montclair in the peak direction rush hours (with some outbound evening service). These trains are spread out throughout the service day, with just 3 trains that could be considered part of the AM peak direction rush hour and two as part of the PM peak hour. The station lacks any sort of train yard, and 5 trains per day reverse in the station, with the first two AM trains, and last two PM trains deadheading 10 miles to and from the yard at Port Morris.
All Photos: August 27, 2013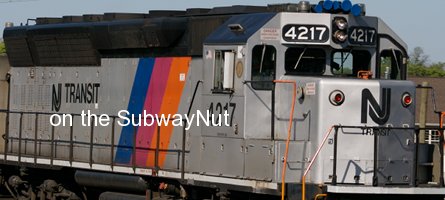 Last Updated: February 3, 2021
This website is not allifiated with New Jersey Transit, their official website is here
This Website is maintained and copyright © 2004-2022, Jeremiah Cox. This website is not affiliated with any transit provider. Please do not remote link images or copy them from this website without permission.