Military Park

Washington Street

Penn Station

Military Park (named Broad Street until it was renamed in 2004 to avoid confusion with the soon be open downtown Light Rail Line to the Newark Broad Street Train Station itself) was the original terminus of the Newark City Subway when it opened on May 26, 1935. The station originally served the Public Service Terminal, a major three level streetcar and later bus terminal in downtown Newark. There is still blue directional sign text for it (partially obscured by some information panels).
The underground station has two side platforms for the two track trolley line. These each have cream colored walls with a blue trimline that has a narrow green border and is interrupted by Broad written in the trimline in white text on blue. The trimline has a number of WPA-era murals that depict the building of the Morris Canal and are also found at the other 3 nearby stations. The platforms are much longer than they need to be for today's LRVs and the ends are fenced off or have fenced off corridors along the walls of the platform to serve the two entrances each platform has. The outbound platform has a fence running down the middle of it with the remains of fare boxes and narrow entrances for in station fare collection when the station originally opened long before the Newark Light Rail became POP in 1999 (passengers used to pay when boarding the PCCs). The inbound platform lacks this fencing and just has TVMs and POP validators directly on the platform.
Each platform has two exits. Towards western end of the platforms; the outbound side has staircases that lead up past white cinderblock walls to an entrance inside a storefront (with glass doors) along Raymond Blvd just west of Broad Street. The Penn Station-bound platform has a black streetstair, with white globes that say City Subway at the SW corner of this intersection. The other eastern exits are reversed, the outbound platform has a streetstair up to the southern corner of Military Park (the NE corner of Park Place, that meets Broad Street at a 5-way intersection here) and the Penn Station, inbound platform has an entrance in the building across the street tucked away next to a shoeshine.
Photos 1-11: 8 August, 2006, 12-59: 22 October, 2012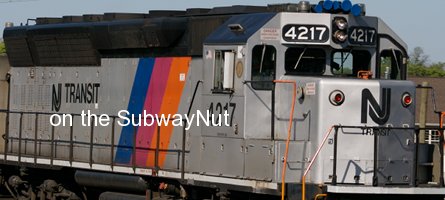 Last Updated: 6 December, 2013
This website is not allifiated with New Jersey Transit, their official website is here
This Website is maintained and copyright © 2004-2023, Jeremiah Cox. This website is not affiliated with any transit provider. Please do not remote link images or copy them from this website without permission.