Williams Bridge Station is a station on the Harlem Line in the North Bronx at Gun Hill Road, just east of the Bronx River Parkway and west of Webster Avenue. New Haven Line trains could stop since those that stop at Fordham still have to be running on the local track here but have always bypassed the station. The Gun Hill Road 2/Rush Hour 5 Station is a fifth of a mile east above White Plains Road. The station has two side platforms that can only accommodate 4 cars each. The side platforms are completely split with the northbound platform entirely on the north of Gun Hill Road, and the southbound south of Gun Hill Road, each platform's single entrance is a covered staircase that leads up to the respective Gun Hill Road sidewalk. Until about 2006, when NYC DOT rebuilt the Gun Hill Road Bridge, this wasn't the case. The northbound platform had a secondary staircase also from the south sidewalk of Gun Hill road this staircase was covered and switch backed down via an intermediate landing to end at a gradual ramp to the extreme end of the northbound platform. This ramp remains at the end of the northbound platform and leads to nowhere.
The platforms themselves still have the original high-level everywhere in 1970 look with long florescent light tube lampposts. For waiting passengers the Grand Central-bound platform has a rusting canopy for about a third of its length closest to the staircase entrance that also covers a TVM. The northbound platform has a bus shelter covering its own TVMs and an older grey with Plexiglas walls and doors shelter for waiting passengers.
Photos 1-8: 6 August, 2006; 9-25: 13 January, 2012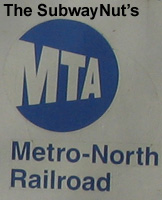 Last Updated:15 August, 2015
All photos are by Jeremiah Cox
This website is not allifiated with MTA Metro-North Railroad, there official website is here
This Website is maintained and copyright © 2003-2021, Jeremiah Cox. This website is not affiliated with any transit provider. Please do not remote link images or copy them from this website without permission.