New Haven-State Street was built by the Connecticut Department of Transportation as a combined Shore Line East/Metro-North Station to be a second station in New Haven closer to downtown New Haven. This station is only half a mile from New Haven-Union Station but is still much closer to downtown. Service began first with Shore Line East Trains stopping at the station starting beginning on June 7, 2002. Starting on June 24, 2002 a few Metro-North reverse-peak rush hour trains (at first one arriving in the morning and four leaving in the evening) where extended the one stop from Union Station. As of the 2013 timetable there are six Metro-North trains per weekday extended the one stop to State Street most at reverse-peak times (to New Haven in the AM, from New Haven in the PM) to serve commuters heading into New Haven for jobs. The station has been open on weekends full time since 2008 when weekend Shore Line service began operating with all Shore Line East Trains on weekends stopping at the station. All weekday trains do as well except for the first two early morning reverse-peak Old Saybrook/New London Express trips. Shore Line East (such as for passengers going the one stop to Union Station to connect with Metro-North) is free for the first trip. Metro-North is technically not free to Union Station but it seems like the average conductor crew would wait until after Union Station to start punching tickets.
The station has a single island platform for the southern two tracks numbered 4 and 6 at what is a four track line here. The other two tracks are used by Amtrak trains that bypass the station, and stop at the northern four tracks and two platforms at Union Station while Metro-North and Shore Line East use the southern four tracks and two platforms. The station is located before the Inland Route to Hartford and Springfield used by the Vermonter, through Northeast Regional and Shuttle trains that bypass the station in addition to the through Northeast Regional and Acela Express trains running via the Shoreline route to Boston.
The station and island platform are short and can only accommodate 3 to 4 cars like all the Shore Line East stations but is much shorter than the average Metro-North Station that can platform 10. The station is located in an open-cut between the overpasses of Chapel Street and Court Street. It is fully canopied by a modern canopy held up by blue and green support beams. Signage consists of Connecticut Commuter Rail style signs with a red top line and black text that say 'New Haven-State St'. To leave the platform are two enclosed by glass staircases and an elevator up to a central octagonal pedestrian mezzanine. Here is the station's Metro-North TVMs although Shore Line East tickets can only be purchased on the train (or only at Amtrak ticket offices) This overpass is fully enclosed by glass and roofed with blue-green beams and leads across the Amtrak tracks and to 5 steps down (with ramps) to a bus drop-off loop. This bus loop is just off of State Street with plenty of sidewalk access. This pull-off is used by Commuter Connection Buses in the AM rush hour only (PM buses drop-off at Union Station) and one of the Yale Shuttle routes. As of August 2013 The station currently lacks any decent train status information system but this is about to change with the installation of LCD displays and LED signs along the overpass and platform that is part of the same project replacing the Solari board in Union Station with new information signs.
Photos 1-26: 20 March, 2013, 27-38: 21 August, 2013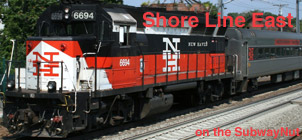 Last Updated:19 October, 2013
All photos are by Jeremiah Cox
This website is not allifiated with Shore Line East, there official website is here
This Website is maintained and copyright © 2003-2013, Jeremiah Cox. This website is not affiliated with any transit provider. Please do not remote link images or copy them from this website without permission.