Port Chester is the last Metro-North Station in New York State on the Harlem Line, before trains enter Connecticut. The station consists of a historic single story light brown brick station house that was built in 1890 by the New Haven railroad. This building currently contains a still open ticket office for one weekday shift and a new restaurant, Station House that opened in 2018, that included building a covered outdoor patio area attached to the station house. The station's New Haven-bound platform became wheelchair accessible on December 1, 2017 when an elevator up to this elevated platform from Westchester Avenue opened, along with an Accessible ramp up to the Grand Central-bound platform via the parking area.
The station consists of two side platforms for the four track New Haven mainline. The platforms begin with staircases up from King Street at their northeastern ends. The New Haven-bound platform is located on an elevated embankment with a stone retaining wall beneath the platform. This platform begins with a staircase up from King Street at its northeastern end and is followed by a mid-block staircase that leads down to a small parking area that leads out to King Street (which curves to follow the rail line). There is finally a staircase and the new elevator that leads down to the north side of Westchester Avenue (who's sidewalk is the station's de-facto cross-under), before the platform continues above this underpass before ending with no exit to the south side of Westchester Avenue. This platform has a simple canopy structure in the middle of the platform that covers approximately 3 cars.
The Grand Central-bound platform is at the same-level as the station's main parking parking lot that covers an area bounded by Westchester Avenue, King Street and Broad Street. This platform has staircases nearly directly up to it (via small intermediate landings at the parking lot level) from Broad Street, along with a ramp up to the parking lot from Westchester Avenue. There are multiple staircases up to the platform from the parking lot. The Grand Central-bound platform has a canopy structure that covers about half its length, including in front of the historic station house starting from the northern end of the platform. There are also two modern waiting silver shelters installed in 2011 complete with an Art's for Transit Installation.
Photos 1-39: 10 September, 2012; 40-62: 6 October, 2018
Arts For Transit at Port Chester
Port Chester Scenes, 2011
Laminated Glass
By Bernard Greenwald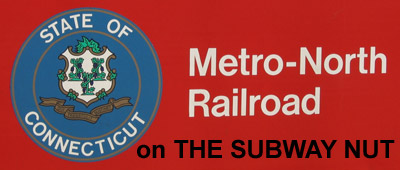 Last Updated:20 November, 2020
All photos are by Jeremiah Cox
This website is not allifiated with MTA Metro-North Railroad, there official website is here
This Website is maintained and copyright © 2003-2023, Jeremiah Cox. This website is not affiliated with any transit provider. Please do not remote link images or copy them from this website without permission.