Ludlow is the first stop above the New York City line. It is located in southern Yonkers in an industrial area. The river can't be seen anywhere from the platform, instead smoke stacks and chemical tanks are between the station and the river. The station is one of the few on the Hudson Line that uses the services of a local street, Ludlow Street to provide the bridge between the platforms. The stations two ticket machines are located in a shelter on the sidewalk on Ludlow St that crosses the tracks just north of the station platforms. The New York-bound platform can only be accessed from a staircase down the Ludlow Street. The staircase down from Ludlow street on the Poughkeepsie bound platform leads to small parking lot (Abe Cohen Plaza), access from Bridge Street and then the station platform. Both platforms have an unusual feature of the staircases from this overpass of sorts goes down to track level and there is about thirty feet of area where there's a long and narrow passageway at track level, with a low fence prohibiting people from walking onto the tracks. A fifth freight lead track is also just beyond here. This covered area (on the northbound platform is along the small parking lot) leads to the ADA compliant gradual ramp up to the each of the narrow side platforms. These are full length that have canopies and the digital information signs towards their southern ends. This means the station is ADA compliant for Track 4, normally the northbound platform only.
Photos 1-26: 13 June, 2008; 27-51: 13 November, 2013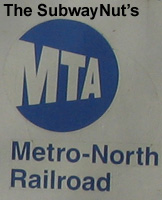 Last Updated:3 July, 2014
All photos are by Jeremiah Cox
This website is not allifiated with MTA Metro-North Railroad, there official website is here
This Website is maintained and copyright © 2003-2021, Jeremiah Cox. This website is not affiliated with any transit provider. Please do not remote link images or copy them from this website without permission.