Quincy Adams is a huge parking garage station with 2,538 spaces. This multi-level, multi-section are concrete brutalist architecture garage towers over the station's single elevated island platform. Two up escalator/stairwells and an elevator lead down to a fare control area where doors lead out to a bus/car drop off loop in a central atrium between two separate sections of the huge parking garage. There is a walkway that leads to nearby Bergin Parkway through the garage but it is just a strip of low-lying shops and no houses. This parkway has an exit to MA-3, the Pilgrims Highway just south of the station. A former exit did lead to a community to the otherside of the station but it was closed shortly after the station opened because residents were complaining about the increased traffic due to passengers using that entrance to dropped-off and picked-up.
All photos taken on 28 June, 2011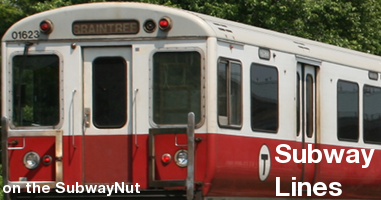 Last Updated: 16 July, 2011
This website is not affiliated with the Massachusetts Bay Transportation Authority. Their official website is here
This Website is maintained and copyright © 2011, Jeremiah Cox. Please do not remote link images or copy them from this website without permission.