Fields Corner is an elevated/on an embankment red line station with two side platforms for the stations two tracks. It was recently rebuilt and the platform and station has silver walls (including the coloring of the concrete sides of the embankment of the tracks down to ground level) with glass ceilings for the platform canopies, and platform windscreen walls. The stop has a main entrance lobby beneath the tracks with staircase elevator access and an escalator up to the inbound platform. The faregates lead out to an underpass area with a plaza up to Charles Street that serves the local commuties, and on the otherside just beyond Freeman Street doors lead out to the bus loop for bus connections. The bus loop also loops around and follows the outbound platform to provide turn-around access.
All photos taken on 28 June, 2011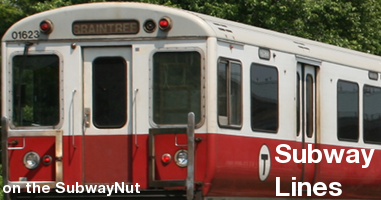 Last Updated: 1 July, 2011
This website is not affiliated with the Massachusetts Bay Transportation Authority. Their official website is here
This Website is maintained and copyright © 2011, Jeremiah Cox. Please do not remote link images or copy them from this website without permission.