Wellington is located on the edges of the main Orange Line Yard called the Wellington Carhouse. The stop has two island platforms for the line that was built as three tracks expect one is currently out of service, outbound trains run in the middle track and open their doors on both sides, with the platform only accessible from outbound trains. This is the most northern stop on the 3 track portion of the Orange Line, with the line becoming two tracks for the final 2 stations up to Oak Grove with the not-used in regular service third track ending just north of the station.
The stop is located at ground level. The stop has the standard concrete canopies and an elevator that leads to a narrow and glass filled walkway followed by a staircase/up escalator that lead form the northern ends of the platforms. These lead up to a small mezzanine area where the faregates are that lead to two exits to the street. The original one is simply a small overpass across to an busway island in the middle of a large parking lot with 1,316 spaces.
The other is a very long and more modern bridge 'SkyWalk' that leads across the train yard (providing excellent views of it) to the parking garage of station landing a retail and apartment transit-oriented development called Mystic Center (later renamed Station Landing). This modern bridge originally contained a $2.9 million dollar people mover with two Otis Elevator cable-hauled cars on parallel tracks. The people mover was plagued by mechanical problems and in August 2006 it was closed and replaced by the Skywalk, the oversized truss base of the skywalk is clearly what remains of the people mover.
Photos 1-31 taken on June 29, 2011; 32-38 on August 22, 2013; 39-70: August 2, 2021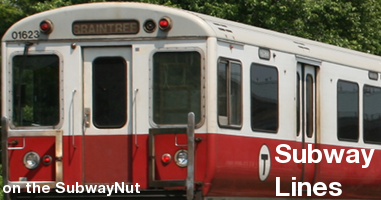 Last Updated: 3 September, 2021
This website is not affiliated with the Massachusetts Bay Transportation Authority. Their official website is here
This Website is maintained and copyright © 2011, Jeremiah Cox. Please do not remote link images or copy them from this website without permission.