Community College is an Orange Line Station on the section of 3 track subway and has two island platforms except that one is abandoned meaning outbound trains that run on the center track only open their doors onto the platform that is shared with inbound trains that is still opened. The stop like Sullivan Square is located with I-93 hovering above and feels not all that inviting, and although the highway is just above each platform they both still have canopies for their entire lengths, these lead to the southern end of the station where first an elevator built onto its own more modern looking glass structure followed by an escalator/staircase at the very end of the platform to a small fare control area above the tracks after the faregates exits lead one to the northside walk of Austin Street's Gilmore Bridge that leads across the orange line and then the rail yards that extend north from North Station as well as a walkway to Bunker Hill Community College for witch the station is named.
All photos taken on 29 June, 2011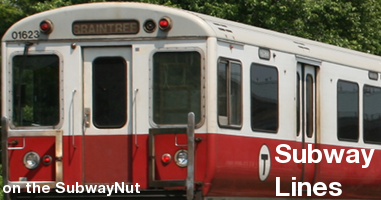 Last Updated: 24 July, 2011
This website is not affiliated with the Massachusetts Bay Transportation Authority. Their official website is here
This Website is maintained and copyright © 2011, Jeremiah Cox. Please do not remote link images or copy them from this website without permission.