Butler has the most unique platform layout of any of the Mattapan High-Speed Line stations. It has a single island platform between the two tracks and is the one stop where the left-side center door of the PCCs are be used. In reality it was observed that outbound drivers, at least, simply stop right in front of the entrance crossing to the island platform and open their right-side door for access, although the middle door might be opened as well. The single island platform is canopied for most of its length with a bench and separate small glass windscreen structure and tactile warning strips on its edges. There is an ADA ramp shared by both directions at its western (outbound) end. There are two means of access, both of which lead to the paved (and painted yellow) pedestrian crossing. One is from a ramp down to the inbound side from a dead ending section of Butler Street, the other leads in from a discontinuous section of Butler Street at the same grade to the outbound side, ending at the stations small parking lot, along the Neponset Trail Just west (inbound) of the station the line enters its most unique section passing through (without the train, which veers off to take its own route) the middle of Cedar Grove Cemetery.
All photos taken on 28 June, 2011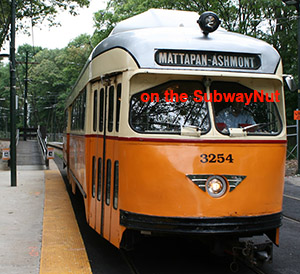 Last Updated: 1 July, 2011
This website is not affiliated with the Massachusetts Bay Transportation Authority. Their official website is here
This Website is maintained and copyright © 2011, Jeremiah Cox. Please do not remote link images or copy them from this website without permission.