Riverway is an in-traffic street stop Green Line 'E' Branch station located on Huntington Avenue. The stop is located just outbound of the intersection where Huntington Avenue curves away from Boylston St. The outbound platform has just a single trolley stop sign on a pole, the inbound is marked by a T-post, trolley stop sign, a more substantial overhanging alerting motorist of Trolley Stop Caution, Yield to Pedestrians, and another affirming that rule as the state law.
All photos taken on 29 June, 2011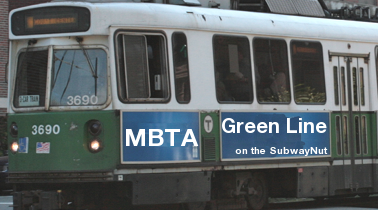 Last Updated: 3 July, 2011
This website is not affiliated with the Massachusetts Bay Transportation Authority. Their official website is here
This Website is maintained and copyright © 2011, Jeremiah Cox. Please do not remote link images or copy them from this website without permission.