Boston College is the terminus of the 'B' branch. The train line curves north off of Commonwealth Avenue to pull into a small trolley car loop with a few tracks for storage, including two bays inside a small brick building. There are also a few other little buildings. Trains discharge there passengers on one end of the loop before pulling around to receive their new inbound passengers on the other end where there is a little waiting area with a wooden mini-high platform and some bus shelters. Just beyond the station the tracks curve back onto Commonwealth Avenue to a concrete area where a station also could be, but the now abandoned Greycliff Road stop is a bit farther down.
All photos taken on 29 June, 2011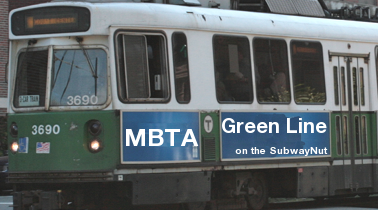 Last Updated: 6 July, 2011
This website is not affiliated with the Massachusetts Bay Transportation Authority. Their official website is here
This Website is maintained and copyright © 2011, Jeremiah Cox. Please do not remote link images or copy them from this website without permission.