Port Imperial (Hudson-Bergen Light Rail) is located on the site of the former Weehawken Rail Yards used by the West Shore Railroad of the New York Central. The area was the northernmost major rail terminus along the Jersey side of the Hudson River where passengers switched from trains to ferry boats. The New York Central discontinued all trains and ferry boats on March 25, 1959 ending 259 years of continuous ferry service from this location across the Hudson. The start of restoring ferry service for what is now called New York Waterway occurred in 1981 when Arthur Edward Imporatore bought the former New York Central train yards here from the bankrupt Penn Station. In 1986 he reestablished the first ferry route on the Hudson River (the last ferry to operate had been a double-ended Lackawanna Railroad ferry boat from Hoboken Terminal in 1967).
Passenger Rail in the form of the Hudson-Bergen Light Rail finally returned to the historic location with two opening days (I visited the station on both opening days). The first was an extension of the then shuttle LRV running between Lincoln Harbor and Hoboken only on October 29, 2005. On that day the northern half of the platform was still closed, and Barricade No Shunting signs and barriers were in the middle of the tracks along the platforms that were only operating single LRVs. Bulldozers were still around and the only other person at around the station during our photo stop was a jogger who stopped by to check the station out. Construction on retrofitting the Weehawken Tunnel (that brought NY Central's West Shore Line trains to this side of the waterfront) was still on going and the overpass across Port Imperial Blvd to the NY Waterway Parking garage (then just a parking lot) hadn't even begun construction. The station opened to service full time with the opening of the Weehawken Tunnel on February 25, 2006. At this point only the concrete staircase up to todays overpass had been built with the northern half of the platform still closed.
It took many years for the overpass to be completed. On May 23, 2006 a new permanent ferry terminal open. Passengers before that actually boarded ferries through another decommissioned and repurposed ferryboat that had been used since the restoration. At first a walkway to a long winding staircase up to the top of the Palisades opened and then the overpass simply sat dangled midway across the intersection when the developer who was supposed be building it just stopped. It turned into a 'Bridge to Nowhere' to the irksome of commuters going from ferries to the light rail who had to wait to cross the wide and busy Port Imperial Blvd. Eventually New Jersey Transit took over the stalled project and the overpass was finally completed in 2012.
The station today has a single island platform with not one but two canopies for the two track line. Grade crossings at each end of the platform lead across the southbound track to a bus one-way bus loop (southbound only) with two Hudson-Bergen Light Rail style shelters. A nice landscaped plaza is between the bus loop and Port Imperial Blvd and contains sculptures that scuptures that play homage to the Palisades Cliffs. The northern end of the platform extends to a staircase an elevator up to the previously mentioned overpass. One end of this overpass leads to a lack switchbacking staircase up to the top of the Palisades. The other finally leads across Port Imperial Blvd arriving at a elevator/staircase down to Avenue at Port Imperial at the southern edge of a parking garage designed for ferries.
Photos 1-11: October 29, 2005; 12-30: February 25, 2006; 31-33: May 20, 2006; 34 & 35: September 4, 2011; 36-40: November 19, 2012; 41-48: May 29, 2014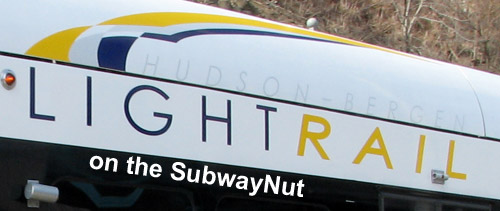 Last Updated: 28 February, 2021
This website is not affiliated with New Jersey Transit, their official website is here
This Website is maintained and copyright © 2006--2023, Jeremiah Cox. Please do not remote link images or copy them from this website without permission. Contact the webmaster