Riverside-Downtown Metrolink Station, renamed the Joseph Tavaglione Riverside Downtown Station opened to passenger service on June 14, 1993 when the Metrolink Riverside Line entered service. The Riverside Line was joined by the Inland Empire/Orange Couty Line running south to Irvine in Orange County (today 2 daily trains run all the way to Oceanside 5 daily trains run south to Laguna Niguel/Mission Viejo, with one southbound train still terminating at Irvine) on October 2, 1995 and extended north to San Bernardino (today 4 out of 8 weekday trains and both weekend trains) on March 4, 1996. The final Metrolink Service began on the originally named 91 Line began in May 2002, providing service to Los Angeles via the same route as the Southwest Chief (sharing all of it's stations with either the Inland Empire/Orange County Line or Orange County Line). The 24 mile-long Perris Valley extension opened down the Riverside Transit District-owned San Jacinto Branch Line on June 6, 2016 renaming this line the 91/Perris Valley Line. Today there are eleven weekday trains to and from Los Angeles-Union Station with travel times of 85 minutes on the six trains running via the Riverside line, and 90 minutes on the five 91/Perris Valley Line trains. All but two trains are in the peak-direction rush hour
Amtrak's Southwest Chief which began operating via Fullerton when the traditional line via Pasadena closed on January 15, 1994, skipped the station until it began stopping in April 2002. Today the stop also sees twice daily thruway bus service to Fullerton (coming from Palm Springs and Indio, but no bus-only itineraries) connecting to the Pacific Surfliner, and four daily buses to Bakersfield (coming from Hemet or Indio, no only bus itineraries) connecting to the San Joaquin. There is currently minimal Amtrak signage at the station, I found a sign on the platform for Tracks 3 and 4 that looked homemade telling passengers to wait by the TVMs and arrows pointing in the direction of the coaches and sleepers.
The station has two island platforms and four stopping tracks. The two island platforms are extremely long and can platform up to two trains each. There are two tracks between each of the platforms that are used for through freight trains on the BNSF transcon skipping the station. The northwest island platform for tracks 1 and 2 is used by terminating trains, the tracks continue north of the station and one does switch back onto the mainline, with the other forming a siding track siding. The southeast island platform for tracks 3 and 4 are used by through trains on the Inland Empire/Orange County Line and 91/Perris Valley Lines, and is the only platform used on weekends (when no Riverside Line service operates).
The station's main parking lot is along the northwest side of the station, between the tracks and Vine Street. Here is the station's main bus loop with two shelters. A centralized entrance that is closed off by sanctions on weekends provides all access via a pedestrian crossing to the northeast island platform. A grand roofed-off pedestrian bridge with red Riverside Downtown lettering begins on the edge of the parking lot in the bus loop with an elevator and staircase up to the bridge, it leads directly to the far island platform (there isn't a second bridge/staircase down to Tracks 1 and 2) leads to the Island Platform for Tracks 3 and 4. At the northern end of this platform is a pedestrian grade-crossing across 1 track to a small parking lot that is all ADA accessible parking just off of Commerce Street.
Photos 1-30: December 21, 2019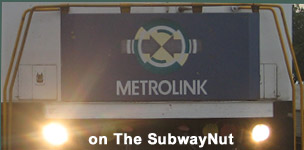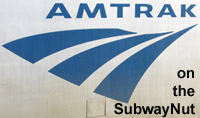 Last Updated: 15 March, 2020
All photos are by Jeremiah Cox
All histrocial dates unless otherwise noted come from: Edward J. Simburg, Railroad-Freeway, Agoura, CA: Yerba Seca Publications, 1998
This website is not allifiated with Metrolink (the SCRRA), there official website is here, or any other transit provider
This Website is copyright © 2003--2021, Jeremiah Cox. Please do not remote link or copy images from this website without permission. Contact the webmaster